Use LifterLMS and ActiveCampaign together to build an automated, effective and profitable course or membership experience, with this expert advice.
With ActiveCampaign to automate day-to-day tasks you need to get done for your learners, you can free up your time to use your high-value human-touch where it matters. And automation allows you to scale up your courses and memberships business to make more sales without breaking you or your team.
LifterLMS with ActiveCampaign and WP Fusion are a total dream-team tech-stack for memberships and courses.
But if you're using a different WordPress learner management system like LearnDash, or you don't have the budget for WP Fusion then you can still do all these things, but we like LifterLMS best, and WP Fusion makes life so much easier – so these are the ones we use to create and run our awesome ActiveCampaign Academy.
Try ActiveCampaign now with a two week free trial
Follow these steps to learn about automating LifterLMS with ActiveCampaign
Read about 5 Brilliant Moves that use LifterLMS with ActiveCampaign
You can do pretty much anything you want to, but here are the five things we've used most often with the biggest impact for the least effort:
Auto-enrol leads to a free course when they fill out an opt-in, for instant-gratification.
Use tracking, tagging and fields to keep track of what all your contacts do in LifterLMS
Watch for key moments to deliver timely intervention and build student success
Identify hot leads and nurture them into raving fans
Match lead-sources to high lifetime value customers so you know exactly where to find more
We've made a short video for each of these five so you can see how to connect LifterLMS with ActiveCampaign like a pro.
But first… you need to know how to connect ActiveCampaign and LifterLMS
Try ActiveCampaign now with a two week free trial
Learn how to integrate LifterLMS with ActiveCampaign
ActiveCampaign and LifterLMS are each incredible as separate tech tools.
The truly amazing super-powers come when you connect them, and have data flowing smoothly in both directions. This enables them to work as a team, with full information on both fronts.
The techy term is integration but I think of it as joining the dots. We need this to be able to do the really brilliant moves.
For LifterLMS and ActiveCampaign, there are two main options for joining the dots without needing a developer or coder.
Option 1: Use the WP Fusion plugin to connect LifterLMS with ActiveCampaign
WP Fusion is a WordPress plugin that creates a two-way, comprehensible, editable and well supported connection between WordPress users and ActiveCampaign contacts.
It's an incredible tool, and you can learn more about it in my WP Fusion Recommendation.
WP Fusion passes information between ActiveCampaign contacts and WordPress users, including all the information that LifterLMS uses and creates for students.
Using the WP Fusion plugin is the easiest method to use
We've used WP Fusion with hundreds of WordPress sites, for ActiveCampaign users, and it has never let us down.
From here on, I'm assuming use of WP Fusion, but everything can be done with Zapier if you prefer.
If you want our advice, and you have the funds, go for WP Fusion on the paid plan – it will earn its keep many times over.
Option 2: Use Zapier to connect LifterLMS with ActiveCampaign
If you're an experienced Zapier user, you can do all the things in this blog using zaps.
Using Zapier gets fiddly and can be expensive
Becuase zaps are mostly one-directional, you need two zaps for many things – one going from LifterLMS to ActiveCampaign and another going from ActiveCampaign to LifterLMS.
This gets expensive, and as your business grows it gets more costly and complex. Zapier can also be challenging to troubleshoot and maintain for non-experts when used at scale.
You can also use Make (formerly Integromat) or Pabbly as alternatives to Zapier.
We love Zapier, and teach a course in the ActiveCampaign Academy that shows exactly how to use Zapier with ActiveCampaign. It's a totally awesome tool to use alongside ActiveCampaign – but WP Fusion has it beat on the WordPress user things.
Learn more about our ActiveCampaign Academy membership
Fast, effective training & support for ActiveCampaign users everywhere
Enrol someone on a free course after an opt-in with 5 automated steps
Instant enrolment is a big win for instant-gratification on a lead-magnet or freebie. Your site visitors will love this, and feel looked-after and welcome.
How to take a new lead from first optin to consuming your amazing free course content in 10 minutes, without you lifting a finger:
Lead fills out an optin form somewhere, gets to a thank you page with welcome and "go check your inbox"
Form data to ActiveCampaign, creates or updates contact and adds a tag
Webhook from ActiveCampaign, creates or updates WordPress user via WP Fusion
LifterLMS auto-enrols the user due to the tag and the WP Fusion settings
ActiveCampaign emails the contact with login link, username and password
Boom! Usually done in 10 to 15 mins.
Your lead can now go immediately to log in and start consuming your incredible content and learning how valuable it is to them.
Sure – there's some detail to dig into there – any time you want to get this set up and need a guiding hand, join us in the ActiveCampaign Academy and we will walk you through step by step with all the details.
Track everything students do in LifterLMS and see it in ActiveCampaign
LifterLMS has a detailed and constantly updated record of exactly what students do.
Get that LifterLMS student activity into ActiveCampaign, and you can send each student highly personalised email content at exactly the right moment. Build connection, by letting students feel a connection with you.
WP Fusion allows you to easily send LifterLMS data from WordPress users to ActiveCampaign contacts, and to sync the values from one place to the other in custom fields.
You can also use WP Fusion to add and remove ActiveCampaign Tags based on LifterLMS activity.
The connection via fields and tags is endlessly customisable, and limited only by your creativity. Throw in ActiveCampaign site-tracking as well and you have a complete picture of every user's LifterLMS activity in their ActiveCampaign contact record.
To learn exactly how to set up this connection, choose the right settings, and leverage the WP Fusion features come on in to the ActiveCampaign Academy. We support WP Fusion users worldwide with getting the best out of using it with ActiveCampaign, in our Advanced ActiveCampaign Academy level.
Learn more about our ActiveCampaign Academy membership
Fast, effective training & support for ActiveCampaign users everywhere
LifterLMS student data you can add to ActiveCampaign using WP Fusion
joining date
expiry dates
last login
survey & quiz data
assignment submission
community participation
last course completed
country
timezone
a whole lot of other things!
You can use this LifterLMS data to automate with ActiveCampaign for routine tasks like onboarding, retention, win-back, reward and nurture automations.
Using WP Fusion to connect LifterLMS with ActiveCampaign is a big time-saver and stress-reducer.
Build LifterLMS student success by watching for key moments with ActiveCampaign automations
Human touch interventions can create a truly exceptional student experience, with highly targeted, big-impact moments.
Watch what people do – and what they don't do.
Scrutinise key student activity so you can step in to support, divert, or re-activate with an intervention for your LifterLMS student.
The intervention may be fully automated, but the best ones are a blend of email sending with automated prompts for high-value human-touch moments.
We walk the walk with this, and run a fully automated member-checkins system for our ActiveCampaign Academy. It's incredibly effective at helping us to retain members for longer, by making sure they get high value and big impact from being in the Academy. We do behind-the-scenes tours of this whole system inside the Academy for our members, so they can use the same methods too.
Learn more about our ActiveCampaign Academy membership
Fast, effective training & support for ActiveCampaign users everywhere
7 times to use ActiveCampaign automation for interventions with LifterLMS students
| | LifterLMS Activity | ActiveCampaign Action |
| --- | --- | --- |
| 1 | Student not engaging in the early days | Personal check-in email, reminders of transformation, send an SMS |
| 2 | Stuck on a crux point or hard lesson | Support sequence triggered, with additional resources and follow-up |
| 3 | Reduced engagement and progress | Re-engagement automation, tailored to where they stalled |
| 4 | Member gone totally quiet | Automated emails then personal reach-out from your team |
| 5 | Pre-exit intent | Head-off cancellation with reasons to stay and personal connection |
| 6 | Cancellation or refund | Show them how to leave, then send a personal farewell video message |
| 7 | Win-backs after cancellation | Win-back automation, timed to suit, including matched ads and offers |
Identify hot leads and nurture them into raving fans
When you know who is most likely to convert to a paying customer, you can expend more resources, money and energy on those leads.
By using ActiveCampaign site tracking and email activity, along with LifterLMS data (passed to ActiveCampaign using WP Fusion), you can identify the hottest leads. The ones who are almost ready to buy. And then you can give then a conversion nudge.
With ActiveCampaign Lead Scoring (available on ActiveCampaign Plus and above plans) or the Perform Math feature (available on all ActiveCampaign plans) you can identify hot leads on autopilot, in a truly scaleable, way.
Set a lead score threshold and use that to trigger some fully automated love and attention on that hottest of hot leads.
6 ways to nudge a hot lead to convert to a sale using ActiveCampaign lead scores
flag the contact with the sales team by creating a deal in a pipeline
prompt a personal Bonjoro message from your CEO
send a discount code in an email
add them to a Facebook audience to show them ads
add a task for a team member look out for them on social
drop them into a focussed conversion automation with all the above and more
When you connect with people one to one, and made them feel special right from the beginning, they are more likely to become those raving fans who will spread the word about you and your business.
Win Win Win. We teach this style of nurture, connection and relationship building throughout our ActiveCampaign Academy training and community. Human-ness underpins everything, even when it's totally automated using ActiveCampaign.
Learn more about our ActiveCampaign Academy membership
Fast, effective training & support for ActiveCampaign users everywhere
Find where your high lifetime value LifterLMS students come from, using ActiveCampaign
You can use the data in ActiveCampaign to know exactly where to find more of your best high-quality leads – the ones that turn into high ltv customers.
Two things to know to find more great leads with ActiveCampaign
The source of each lead that joins your site or contact list
The lifetime value of each contact in your system
How to capture lead source
WP Fusion has an awesome feature to capture utm parameters for newly registered WordPress users.
ActiveCampaign forms (and other third party forms) can capture utm parameters into hidden fields – it's super-easy when you know how.
How to capture LifeTimeValue
WP Fusion has a feature that maps lifetime value to an ActiveCampaign custom field.
But you may need to use Zapier or the ActiveCampaign perform math step in automations.
Two questions to answer to find more great leads for your LifterLMS offers
Which of your lead sources perform best in consistently generating high LTV contacts?
What is the lead source that generates the highest portion of your high LTV contacts?
You can also ask more questions, like which lead sources get to conversion fastest…
How to use ActiveCampaign data to find more great leads
Now that you know the source of your highest LTV leads, you know where to put your time and your marketing spend.
You also know more about what to offer them as bait, because you know which lead sources consistently develop into high LTV customers.
Four things to do to get more great leads for your LifterLMS courses or membership
Use your high LTV customer list to build an audience in Facebook using the ActiveCampaign integration with Facebook
Build a lookalike audience from this ActiveCampaign contact audience
Show the lookalike audience ads that send them to your best content
Re-target site visitors with lead magnets that you know appeal to high LTV customers
Boom!
Make it dynamic, with ActiveCampaign's Facebook Audience integration driving a constantly updated base-audience, and you've got a full-blown self-propelling marketing machine on your hands.
There's a lot more detail to fill in on how to build this. We take our ActiveCampaign Academy members step by step through planning and building full-cycle marketing funnels like this in our Advanced membership level. Come on in when you want to get your automated marketing machine fired up.
Learn more about our ActiveCampaign Academy membership
Fast, effective training & support for ActiveCampaign users everywhere
Get more help with integrating LifterLMS and ActiveCampaign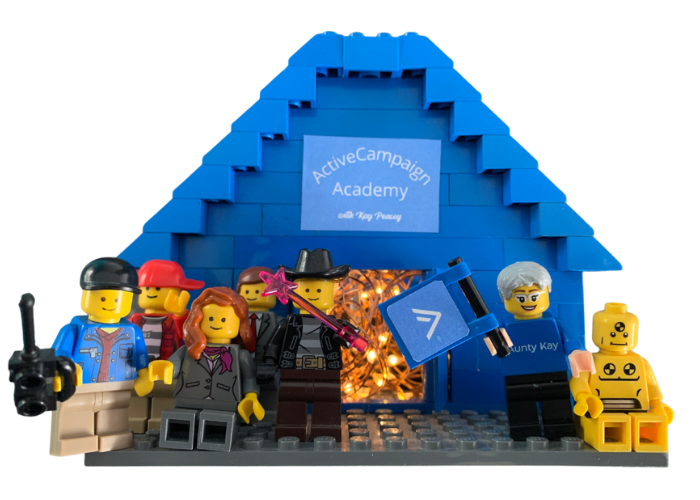 In the ActiveCampaign Academy we help members get ActiveCampaign working smoothly without the crying, swearing, or giving up.
We're really good with LifterLMS and WP Fusion particularly, because the Academy itself is built with those wonderful tech tools.
We also have lovely working relationships with the leadership and developers of both platforms – Hi Jack and Chris, if you're reading this – and can safely say that neither one of them has ever let us down in all these years. So we esspecially love to look after anyone using these awesome tech tools to serve their members, students and communities.
So come on in to the ActiveCampaign Academy, and you'll have Kay Peacey and the Slick Business team, and all your lovely fellow members, to guide you every step of the way to fabulousness with ActiveCampaign.
Learn more about our ActiveCampaign Academy membership
Fast, effective training & support for ActiveCampaign users everywhere