Pain-Relief for ActiveCampaign Users
The membership for ActiveCampaign users who want automation that works and emails that drive sales.
Let me help you plan and implement, so you can use ActiveCampaign the easy way, instead of getting stuck and crying, swearing or giving up.
Newsflash, my
ActiveCampaign friends
Now really IS the perfect time to make sure you're using ActiveCampaign to help your business to thrive and grow, no matter where you're at.
If you are fed up with NOT getting the best out of ActiveCampaign, you're in the right place.
DOES THIS SOUND FAMILIAR?
(RAISE YOUR HAND IF IT DOES)
P

You have an ActiveCampaign account, but it mostly sits there, being paid to look glum in the corner, and not do much else except make you feel bad.

P

Or you don't even have an ActiveCampaign account, even though you know you need it in your business, because it's too darn scary.

P

When you *do* use ActiveCampaign it feels confusing and chaotic in there, and you don't have any real strategy.

P

There is so much stuff you know you want to automate to make it easier to run your business but you feel overwhelmed by the tech, so you keep doing nothing.

P

You know that now's the time to make sure you're sending emails that get to the right people at the right time, and using automations that serve you and actually work, so your business can thrive no matter what.
Been there - got *all* the t-shirts!
I'm Kay. And it's lovely to meet you!
I run Slick Business, a business that specialises in ActiveCampaign consultancy and training business.
But I definitely got there the hard way - in fact, there really *wasn't* an easy way when I started using ActiveCampaign.
But there is now! So you don't have to make the same mistakes I did, or take so long over it.
I've read help articles that didn't help, joined webinars that didn't go into enough detail, talked with 'experts' who weren't...
And I've got stuck again and again with figuring out either the strategy, or how to get the tech to do what I wanted. Courses, knowledge-base docs, YouTube videos and AC support chat...  it's not enough…. and it's not fast enough either.
WHICH IS WHY I'M *VERY* EXCITED TO INTRODUCE...
THE ACTIVECAMPAIGN  ACADEMY
The membership for ActiveCampaign users who are ready to get serious about levelling up what they do with it, and who need expert help, strategy, learning resources and feedback.
Imagine your business one year from now...
Remember that long list of stuff you'd like to get done on auto-pilot?
Sorted. You identified pain points, learned what to use to make it better, and implemented automation for all of them. Now you're getting ready to scale up…
The  worry about emails that land in the wrong inbox, or not at all?
Gone. You know how to work ActiveCampaign, and confidently use the awesome features. You have an ActiveCampaign account that is a joy to work with, and you know how to squeeze all the email-marketing juice out of it.
Trying to figure it out alone, without breaking stuff or crying?
Never again. You belong to a private community of ActiveCampaign friends who help and support you. Even better, you have access to the best ActiveCampaign teacher around, Kay Peacey.
Virtual Assistants // business owners // marketing pros // freelancers...
ActiveCampaign users of all kinds...
This is for you!
Goodbye ActiveCampaign Overwhelm...
Hello Automagical Happiness!
The ActiveCampaign Academy will give you the exact steps you need to ace your emails and automation with ActiveCampaign.
DO ONLY THE ACTIVITY THAT GETS RESULTS
Forget tech overwhelm and frustration. I'll help you focus on the best, strategic, next moves for you and your ActiveCampaign account, so you can see real results, fast. I'll show you the exact steps to get there, so you have a plan to follow. No more broken automations and chaotic email sending.
COURSES FOR WHENEVER YOU NEED THEM
At the heart of the Academy are our courses, covering everything from account set up and feature guides, to impressive yet easy-when-you-know moves and advanced integrations. Self-paced bite-sized video learning for you to pick and mix.
FACE TO FACE SUPPORT AND GUIDANCE
I love answering ActiveCampaign questions. And I'm ridiculously fast at getting you moving if you're stuck. We have regular Academy Office Hours group calls, face-to-face with me to ask me anything. These calls are incredible for getting into specifics of your exact scenario, so you get results and value from ActiveCampaign super-fast and easily.
GET EXPERT ADVICE WHEN YOU NEED IT
I will teach you awesome ActiveCampaign skills, and lay out my store of mastery for you. Starting from the most essential core knowledge, I'll be right with you as you work with ActiveCampaign, whether that's just enough to get it done fast and easy, or all the way to ninja AC pro.
COMPLETE REAL WORLD WALKTHROUGHS
ActiveCampaign does its best work *with* your other business tech, so there's usually more to it than a few automation steps. In our Resources, you'll find fully worked examples, with the strategy, planning, build steps and integration, plus checklists and imports to get you automating fast.
COMMUNITY OF ACTIVECAMPAIGN BUDDIES
The ActiveCampaign Academy community is our hangout place, and forms the social and sharing hub of the membership. It's where we get speedy help, meet fellow ActiveCampaign users, and celebrate the wins, the breakthroughs, the pickles we get into, and how we got out of them. You'll make real friends, who totally 'get' where you're at. It's fully integrated with our training, and a joy to use.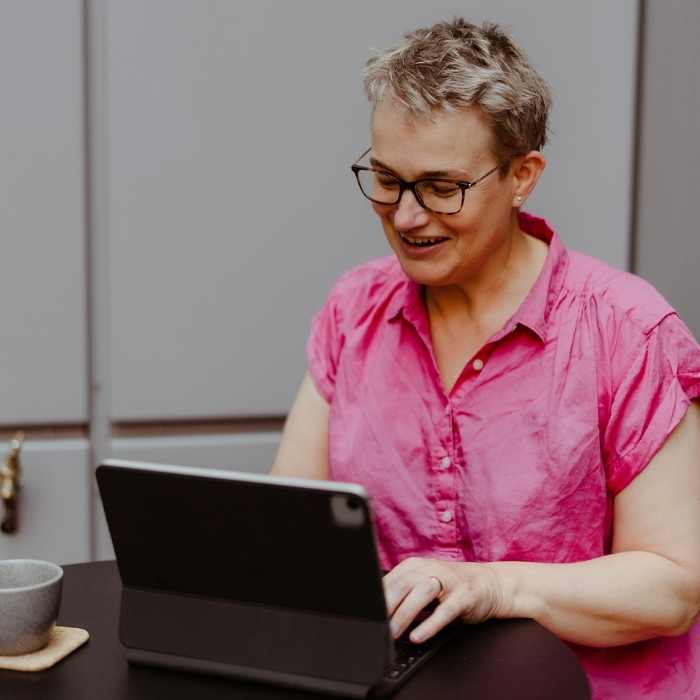 We get together for regular, frequent, drop-in zoom calls hosted by me, and talk about whatever ActiveCampaign thing is on your mind
From a quick "where the heck is the setting for…?" to high level strategy, I'm right there, live, to move you forwards, fast.
We cover everything from basics, troubleshooting, fixes, and automations, to "what next?", sanity checks and major overhauls.
You get to pick my ActiveCampaign-expert brains, get my eyes on your ActiveCampaign world, and get help to leap over roadblocks.
And when you don't have a question, just showing up, and listening in, will leave you fired up, with new skills and ideas, and inspired to automate all the things!
I've been teaching online for years, so I'm enormously excited to offer courses at the heart of the Academy.
As well as access to the flagship "Better Engagement and Deliverability" course, I've included my exclusive organisational template for AirTable.
The courses include invaluable tips, best practice, undiscovered super-features, headache-reducing strategies, and inspiration for your next automation mission.
With an ever-growing range of courses on ActiveCampaign features and how to use them, we cover smart working methods, integration guides and lots more.
The easy-to-use format is bite-sized training video lessons, which you can follow from start to finish or dip into as and when you need them.
NAMES IN ACTIVECAMPAIGN
The rules for safely naming all the things in ActiveCampaign, from tags to emails - humble, but very important.
Avoid future trouble and strife, and never delete the wrong email, or wonder what the heck that automation is for again!
THE EMAIL BUILDER
Detailed guidance for working with the email builder with tips and shortcuts to save you time and tears.
Get your email building workflow fast, fluent and flawless, and make the most of all the smart features to boost opens, clicks and replies.
AIRTABLE TEMPLATE TRAINING
How to set up and use this super system for keeping track of your ActiveCampaign world.
Get stuff done faster, plan better, and collaborate easily on ActiveCampaign atuomations and emails - this one's a game changer all on its own.
ENGAGEMENT & DELIVERABILITY
Our flagship course, with everything you need to know and do to make sure your emails actually get to the inbox.
Step by step through the why and how, including getting the technical bits done once and for all. Check out all the awesome content included with this course here.
I've been teaching ActiveCampaign to clients and students for a long time now, and I'm thrilled to be including properly effective resources for you in the Academy.
Too many times, automation training gives you just a corner of the picture, or a random bit from the middle. And there's not nearly enough information or context. And definitely no strategic insight. And no map to follow either!
This bugs the heck out of me, and always has done. But more importantly, it's a shabby experience for learners.
So we do it differently in the Academy...
P

Real use cases with context and decision points

P

Complete walkthroughs, with all the whistles and bells

P

Checklists to make sure you got everything covered

P

Detailed info for integrations that work

P

Overview maps so you can see the big picture

P

Step by step guidance for where it's faster to build from scratch than to import

P

Fast import links for campaigns and automations, to truly help you to build faster
This one is a favourite...
LEAD MAGNET SIGN UP AND DELIVERY WALKTHROUGH
This start to finish walkthrough of a classic lead magnet process takes you step by step through the strategy, plan, prep build and test stages.
With an automation for easy fast import, a checklist, screengrabs of the details, email copy prompts, and bitesize videos, it's a comprehensive guide, with best practice all the way.
ActiveCampaign training that works for *you*
Effective, fast ActiveCampaign training is not a one-size-fits all thing - I know this because I have trained a *lot* of people, with lots of different starting points, different needs, and different ActiveCampaign plans.
So I'm delighted to be offering TWO levels of membership for the ActiveCampaign Academy...
P

Office Hours with Kay every other week to get help fast on exactly what you need
P

Courses for core skills using Lite plan features

P

Resources for Lite plan features

P

Academy member community
P

AirTable organisational template
P

Double Office Hours - so you get face to face time with Kay EVERY week
P

Courses & Resources for Plus plan and above

P

Courses for advanced skills & integrations

P

Resources for advanced use-cases & strategy
P

Everything from Essential ActiveCampaign
Do I need
Essential

or

Advanced

?
You need to know two things...
Which ActiveCampaign Plan  you work with
The Lite ActiveCampaign plan....
Or
A Plus, Pro or Enterprise ActiveCampaign plan.
GET HELP TO SEE WHAT ACTIVECAMPAIGN PLAN YOU'RE ON
Assuming you're out of the free trial period, go take a look in your account and either check your billing if you're the main account holder, or look to see if you have Deals and Pipelines.
If you see the $ icon, you're on Plus, Pro, or Enterprise
If you don't see the $ icon, you're on Lite
Where you aim to be on the ActiveCampaign Ninja Scale
a Little ActiveCampaign Ninja....
Or
a Big ActiveCampaign Ninja.
LITTLE ACTIVECAMPAIGN NINJAS ARE:
Some ActiveCampaign users are really looking for fast, easy, pain-free, and effective ways to use ActiveCampaign to run and grow their business more easily.
This is totally cool, normal and smart.
Especially if you're super-busy with other things, or using automation for the very first time.
And we all start as baby ActiveCampaign ninjas - including me!
Little ninjas rock.
They get a ton of effective automation done, fast, without needing to become total ActiveCampaign obsessives.
BIG ACTIVECAMPAIGN NINJAS ARE:
Other ActiveCampaign users want to go explore the very furthest edges, climb up big complicated integration mountains, and build their own custom palace of automation wonders.
This is also cool, normal and smart.
Especially if you want to work with bigger, more complex digital eco-systems, or to offer ActiveCampaign services in your business.
Big Ninjas kick ass.
They automate *all* the things, and make it look effortless.
(Little ninjas sometimes find they grow into big ninjas by surprise!)
Choose
Essential

or

Advanced
Monthly subscriptions are flexible, so your can switch Academy level easily and stay flexible.
Annual subscriptions are even better value, with 12 months for the price of 10.
Take a look inside the ActiveCampaign Academy...
If there is absolutely anything you're not sure about, or you just want to chat about whether the ActiveCampaign Academy is right for you, or which level to go for, drop me an email or message me on Facebook
P

Academy Member Community

P

AirTable Organisational Template

P

Essential ActiveCampaign Courses

P

Essential ActiveCampaign Resources

P

Office Hours every other week
P

Academy Member Community

P

AirTable Organisational Template

P

Essential & ADVANCED Courses

P

Essential & ADVANCED Resources

P

Office Hours with Kay EVERY week
Look at these incredible transformations! So proud of what these lovely people have acheived...
 I had literally felt like I was drowning and was feeling so overwhelmed with ActiveCampaign.
And now I feel HOPE, and so optimistic about the future of my business!
Angele Rose - USA
Kay brings a fun twist into a serious subject and makes it feel easy.
And there is so much incredibly valuable information in the Academy it's amazing - I'm now officially a segmenting ninja!
Melody Semmler - Australia
I learned a ton and would have been lost without you.
Your ability to teach what really matters about ActiveCampaign is fantastic. You cut through all the noise, and it is really empowering.
Tina Kister - USA
I just migrated from MailChimp to ActiveCampaign in just two weeks, and would never have dared to do that without you and the Academy.
Things seem so much simpler here, and I feel so supported here in my discovery of ActiveCampaign!
Delphine Denis - France
Kay's "I'm here to help" style always makes everyone feel that they CAN do this, even if they are totally new to ActiveCampaign!
Lisa Burgess - USA
I got a new client through the Academy, to refresh an account before a webinar and launch.
EVERYTHING I learned in the Academy was used. I mean it. EVERYTHING 😂
It's quite magical to see all clicking in place and seeing how we can make things that fits the business needs as well as the customers needs. Proper Active Campaign bootcamp!
Pascale Recher - France
Most days ActiveCampaign just used to hurt my head, but your videos bring clarity and calm that all is well in our account.
The handy tools and ways of working make things so much easier.
Cathy Cousins - Australia
I do love being in the Academy; it's such a supportive, nurturing environment.
Rachel Jackson - UK
Thank you for this Academy community - it makes my work so much more fun and my stress level much lower.
Maja Østvang Hansen - Denmark
Kay is knowledgeable and approachable, and I can't imagine anyone else knows more about ActiveCampaign!
With the Academy we can get a set of expert eyes on our account, and in 5 minutes we're over all the snags and on our way to a robust solution... Jump in!
Kate Leslie - Ireland
I'm totally loving ActiveCampaign! Thanks to the Academy training, I'm happily importing my old lists and tidying, tagging, adding custom fields and notes - this is brilliant!
I know I wouldn't be having such an easy transition to ActiveCampaign if it weren't for you, Kay - this has made things so much easier. Thank you! 
Sally Tudhope - New Zealand
Custom fields were a total mystery - now I'm the boss of them!
Now I get more out of my investment in ActiveCampaign, and can work far more strategically and intentionally. Don't hesitate. Your investment in the Academy will pay off.
John Finkelde - Australia
The ActiveCampaign Academy is super duper.
I took the Deliverability course and got our Mail Tester score from 0.6 all the way up to 9.2 out of 10 with just a few hours of work.
So.... 5 out of 5 stars from me 🤩
Jack Arturo
More kind words from our members...
P

Academy Member Community

P

AirTable Organisational Template

P

Essential ActiveCampaign Courses

P

Essential ActiveCampaign Resources

P

Office Hours every other week
P

Academy Member Community

P

AirTable Organisational Template

P

Essential & ADVANCED Courses

P

Essential & ADVANCED Resources

P

Office Hours with Kay EVERY week
I want you to love being a member of the ActiveCampaign Academy, get amazing results and feel a ton better about having ActiveCampaign in your business.
If you don't feel that your Academy membership can help you get better value from ActiveCampaign, then let me know, and we'll talk.
I'm sure you'll be thrilled and delighted… but just in case!
Kay Peacey
Founder, teacher, and host
Ryan Welch - Freedom Edits
Before we worked with Kay we had a ton of automations, lists and tags, and if anything went wrong, we didn't know how to fix it.
We couldn't continue to grow with the systems we had in place.
Kay figured out exactly what we needed  and wrote the story from beginning to end with ActiveCampaign and the rest of our tech, and that, for me, was completely priceless.
And she delivered training to our team  to empower them to build and test automations themselves, so downtime is minimised - and we're so thankful for that (and our customers too!)
Our entire customer journey is automated. We have saved thousands of dollars just from investing in that.
If you are considering joining the ActiveCampaign Academy today, just do it. There is absolutely no way that you will regret it. I promise you, Kay is a genius. She knows ActiveCampaign like nobody else that we've worked with, and she is an incredible teacher.
Alisa Wyatt - Pilatesology
Working with Kay on our Active Campaign has been one of the best experiences I've had in working with any business consultant in the 10 years we've been running our website.
She saw what we needed and gently guided me through the entire process so that I ended up achieving 'ninja AC skills' myself  along with a complete strategy and plan for our email marketing.
Her video tutorials are super easy to follow, informative and relevant.
I'm now a confident Active Campaign-er who would recommend Kay's training to literally everyone using Active Campaign.
Kylie Lang - The Wedding Academy
Before Kay came along, I can honestly say my ActiveCampaign account was an unholy mess.
She is my fairy godmother of ActiveCampaign. We did unbelievable amounts of spring-cleaning, to a point where I now have an account that is clean, open rates have gone up, and my list is down to a manageable amount.
She takes what could be a complicated subject and turns into something very easy, because she uses language you can understand and gives you a step by step.
Instructions are easy to follow, to a point where I've can create really quite complicated automations by myself.
The overwhelm has gone, and  I love ActiveCampaign more than I thought was possible.
Hayley Hobbs - Griffin Teaching
We are feeling strong, and set up beautifully for planned expansion,
because since working with Kay, our ActiveCampaign is set up properly.
And I now feel really comfortable in there, to check on automations, send campaigns, and to set things up as we need new processes.
I would hugely recommend joining Case ActiveCampaign Academy because it's such a tremendous value for money.
You will get so much out of it, and it allows your business to transform and to be future proofed.
I can't recommend Kay enough - it was an absolute pleasure working with her. She's just brilliant.
Get help to choose the right level - Essential or Advanced
Here are a couple of examples to help you choose:
PLUS PLAN, MIDDLE-ISH NINJA, LIMITED BUDGET = ESSENTIAL
The support and training in Essential will get you a heck of a long way, and will increase the return on investment from your ActiveCampaign account. When you're ready and funds are there, you can switch to Advanced any time.
PLUS OR ABOVE PLAN BUT TOTAL BEGINNER BABY NINJA = ESSENTIAL, PROBABLY
For safe starting, learn to walk first with Essential then switch to Advanced when it feels right, or you need the Plus and above features training
LITTLE NINJA ON A PRO PLAN, WITH BIG AMBITIONS = ADVANCED
Because having access to the content on Plus and above, and seeing what people do with it, means faster progress and better long term results
BIG NINJA AMBITIONS, ON A LITE PLAN = ADVANCED
Because the extra Office Hours calls, and access to complex walkthrough and integration training, unlocks more potential even just for the Lite plan
Where is the private member community based?
Our private member community runs on a marvellous platform called Circle.
It's beautiful, user-friendly, and well-organised so that you can find what you're looking for fast.
We love it, because it keeps all the best bits of social platforms, and adds a ton of great benefits for our members:
easy to access from any browser, or the app, or embedded right alonside our training courses.

keeps some separation between work and play - hooray!

totally controllable notifications to suit what you want and need

searchable and well organised boards with all the Academy's handy links, info and people in one lovely place
What are office hours like?
They're run on Zoom, with Kay hosting.
Drop in as often as you can - we have a calendar you can hook up to your scehdule and see what's coming up.
The calls are NOT recorded - this is so that we can screen-share inside ActiveCampaign accounts more freely.
Teaching points that arise in calls become the next courses and resources for the member area.
When are the Office Hours calls?
Two sessions are run for members every week
Typically Tuesday and Thursday, at 9am or 5pm London time
One hour drop-in zoom calls with Kay, to ask a question, or just listen in
Essential members may attend every *other* week - that's up to four sessions per month 
Advanced members may attend every week - that's up to eight sessions per month.
Our private member community includes a calendar of Office Hours, using your own choice of timezone, where you can RSVP for reminders to attend, or "add to calendar" for sessions you want to block out on your schedule
Can I keep these subscription rates if i later switch between Essential/Advanced or Monthly/annual
Yes, absolutely.
This is a subcription-lifetime price band.
For as long as you are continuously subscribed, this full set of subscription rates is available to you for switching.
Any time you need to take a break and cancel your subscription, that's totally fine, but be aware that any new subscription will be at the new price band rates for the time when you re-join.
Is my subscription pro-rated if I switch between the Essential and Advanced Academy levels?
We pro-rate upgrades from Essential to Advanced, so that you can go up a notch easily, right when you need to.
Upgrades from Essential to Advanced are prorated
This means:
your access to Advanced content is added immediately
you may be charged an additional fee on the day you switch, to cover the higher rate for the remainder of your current subscription period*
your next scheduled payment will be at the higher rate
*This is called a gap payment.
"Upgrades may require a gap payment to account for the remaining number of days on the customer's existing subscription at the higher price per day of the new subscription. This payment is charged at the time the subscription is switched"
Downgrades from Advanced to Essential are NOT pro-rated
This means:
your access to Advanced content will be removed on your next payment due date
you will not be refunded or credited for the difference in cose for the remainder of your current subscription period.
your next scheduled payment will be at the lower rate
The first payment for the new subscription is charged when the next payment for the old subscription was due.
Is my subscription pro-rated if I switch between Monthly and Annual?
Switching from Monthly to Annual
Your next payment will be at the end of your current month of subscription, and will be for the full annual subscription amount, starting from that date.
Monthly payments prior to switching to Annual are not refunded or credited
Switching from Annual to Monthly
Your next payment will be at the end of your current year of subscription, and will be for the monthly amount, starting from that date.
*be aware that if you switch Academy level at the same time, that will be pro-rated for upgrades and may incur a fee at time of switching.
Can my team member come too?
Yes, absolutely.
We recognise that there may be more than one person in your business who needs to get access to this ActiveCampaign pain relief.
You may nominate one additional person to represent you at Office Hours calls and to have a place in the member community.
Please email us after joining if you want to nominate someone.
And it's fine to share your member login with other people in your immediate business team, or who are actively working on ActiveCampaign for your business.
Be reasonable about it, and it's cool with us. If in doubt, ask.
How much time do I need to have for this?
Members who attend Office Hours typically make faster, stronger progress, so you definitely should make space for those as often as you can.
Courses and Resources are built for flexible real-world learning, so you can dip in and grab just the bits you need, or dig in for a binge-watch-and-learn.
A couple of hours a week on a mix of Office Hours, watch-and-learn, and actually working in ActiveCampaign, will see you progressing fast and steadily to ActiveCampaign mastery.
Getting your ActiveCampaign account into better shape can take time, but makes everything ever after a ton easier. So it's good, but not essential, to set aside some time to assess and tidy up. It's like taking the time to get the foundations of your house steady before adding another bedroom.
is there a minimum subscription length?
The smallest duration is one calendar month.
You're welcome to come on in and hoover up all the knowledge you can in that one short month, but typically members stay longer and progress at a pace that suits them and their business.
What topics are covered in Advanced that aren't in Essential?
Plus, Enterprise and Pro ActiveCampaign features are covered for Advanced members only
For example:
Deals
Pipelines
E-commerce deep data
Accounts features
Conditional Content
Facebook Audiences
Advanced members get DOUBLE access to Office Hours calls with Kay, and the Advanced member only calls go into deeper understanding, and more challenging use cases.
Will you do activecampaign for me?
No - this is not a done-for-you thing. 
This is an empowering teach-you-to-fish thing, so you're never dependant on hiring outside help for ActiveCampaign again.
And so that if you do hire ActiveCampaign help anytime, you know what you need, get better results, and know how to use it all without breaking it.
Is the deliverability training course in there?
My home currency is not USD - can i pay in another currency?
To ensure fair and consistent pricing for members all over the world, all subscriptions are billed in USD only.
We recommend borderless or multi-currency bank accounts for any business using modern tech tools, as most are billed in USD.
Wise is a really good option - it's the one I use, and very fast to set up for business or personal banking.
No PayPal option?
 No, sorry. 
For the time being subscriptions may only be created via Stripe, using a debit or credit card.
This helps all parties keep costs and fees to a minimum, and is the most secure option in our view.
Does the pricing include vat?
Slick Business Ltd is not currently VAT registered - we will let subscribers know as soon as that changes.
Your receipt will include business information including address, company registration number and UTR for your records.
If there is absolutely anything you're not sure about, or you just want to chat about whether the ActiveCampaign Academy is right for you, or which level to go for, drop me an email or message me on Facebook. There are no daft questions, and I promise to never do sales voodoo on you.