Use this blog to quickly see what significant changes that all ActiveCampaign users need to know about.
From time to time, like all good tech, ActiveCampaign gets an update on how things look, where they are, and how things work.
Usually this improves the user experience, but it can be confusing and slow you down if you aren't in the loop on what's changed.
Luckily, we're here to help, with our running blog on big ActiveCampaign changes and how they impact users.
Disclaimer – this is not a full change-log, just the highlights, on a need-to know basis.
If you need to know all the changes ever made in full detail, please go to ActiveCampaign's Release Updates
Important info on updates for ActiveCampaign resold accounts
If you purchased your ActiveCampaign account via a reseller, rather than direct from ActiveCampaign themselves, updates will roll out to you after direct accounts have been updated. Contact your reseller for more information.
See what's changed in ActiveCampaign for users
Watch Kay Peacey walk through the latest ActiveCampaign user updates
Try ActiveCampaign now with a two week free trial
What changed in ActiveCampaign July 2022 User Navigation Update
ActiveCampaign has gone blue on the left sidebar, and slicked up the navigation to speed things up for users.
Overall, it's a good update for users, with fewer clicks and page-loads needed to get where you need to be.
Summary of July 2022 ActiveCampaign user update
Icons changed for Automations, Deals, Reports and Websites areas
Left sidebar is blue instead of grey
Left sidebar can be expanded or collapsed to show sub-menus in a light blue bar
Find Lists via the Contacts area
Find Content Library and Campaign Archives via Campaign area
Find Saved Responses via the Deals area
One-click access to Forms via the Websites area
Changes to ActiveCampaign Contacts area from July 2022
Direct access to:
manage Tags
manage Fields
manage Lists
manage Scoring (Plus and above)
manage Accounts (Plus and above)
Changes to ActiveCampaign Campaigns area from July 2022
Direct access to:
manage Content
– this is the content library where account-wide images, gifs etc can be stored and organised
Archives for Lists
– this gets you to the area where List advanced settings are, which is where the unsubscribe and update preferences forms are – so that's a faster route and easier to find now.
Changes to ActiveCampaign Automations area from July 2022
Automation icon changed to look like an automation path
"Automation Messages" actually means Automation Emails
– it's a little-used alternative way to get to automation emails without going to the automation itself – possibly little used because so few people know what it means…
Changes to ActiveCampaign Deals area from July 2022
Deals icon changed to show stacks of deal cards in kanban style, but my brain thought of charts and reports
Direct access to Saved Responses – also still available via settings if you're on Lite
Changes to ActiveCampaign Websites area (for Forms) from July 2022
AC Forms now load immediately as the front page on this tab – hooray!
Website icon changed to weird block thing that looks like an oven…
Get more help with how to use ActiveCampaign quickly and easily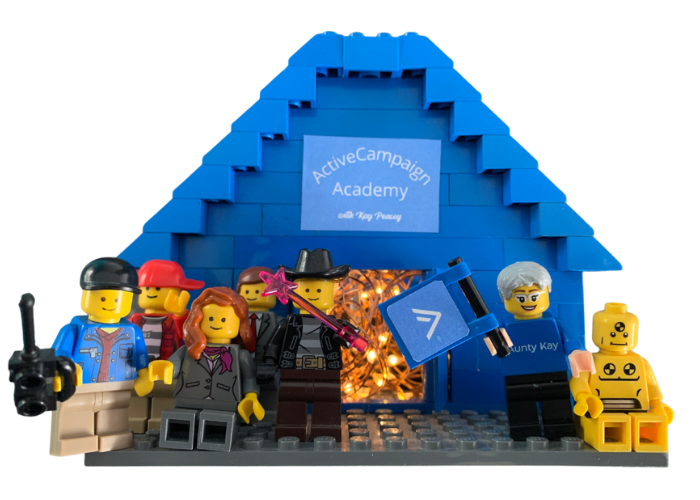 In the ActiveCampaign Academy we provide fast support and effective training for real ActiveCampaign userss all over the world.
Our members are the first to hear about changes that matter, and how to take quick advantage of the best features in ActiveCampaign to grow their business and reduce their workloads.
So come on in to the ActiveCampaign Academy, and you'll have Kay Peacey and the Slick Business team, and all your lovely fellow members, to guide you every step of the way to fabulousness with ActiveCampaign.
Learn more about our ActiveCampaign Academy membership
Pain-relief for ActiveCampaign users everywhere