This ActiveCampaign deliverability blog is for you if you're a Yes to any of these (or all of them!)
You want your ActiveCampaign emails to get seen
You're worried about your ActiveCampaign email open rates
Your ActiveCampaign emails are getting dumped in promotions or spam – or worse, not arriving at all
You've heard negative talk online about deliverability issues with ActiveCampaign
You're not totally sure what ActiveCampaign deliverability is, let alone what SPF and DKIM are.
You want to quickly understand what deliverability is, why it matters, and what you should do about it
I'm so glad you're here – because with years of experience of explaining email deliverability in simple terms for new and established ActiveCampaign users, I'm exactly the right person to demystify deliverability for you, right here, right now.
And I can help your emails be more effective, dramatically, and fast. And you'll bump up those open rates, stay out of the spam folder, and get better engagement with your ActiveCampaign emails along the way –
Yes, all those wins for you, just from some speedy and not boring ActiveCampaign deliverability education!
Feel free, while you're here, to keep count of how many times I can mis-spell deliverability on this one page, just for fun…
Try ActiveCampaign now with a two week free trial
Follow these steps to learn about ActiveCampaign deliverability
Watch Kay Peacey explain ActiveCampaign deliverability in 10 minutes
Grab our FREE ActiveCampaign Deliverability Action Plan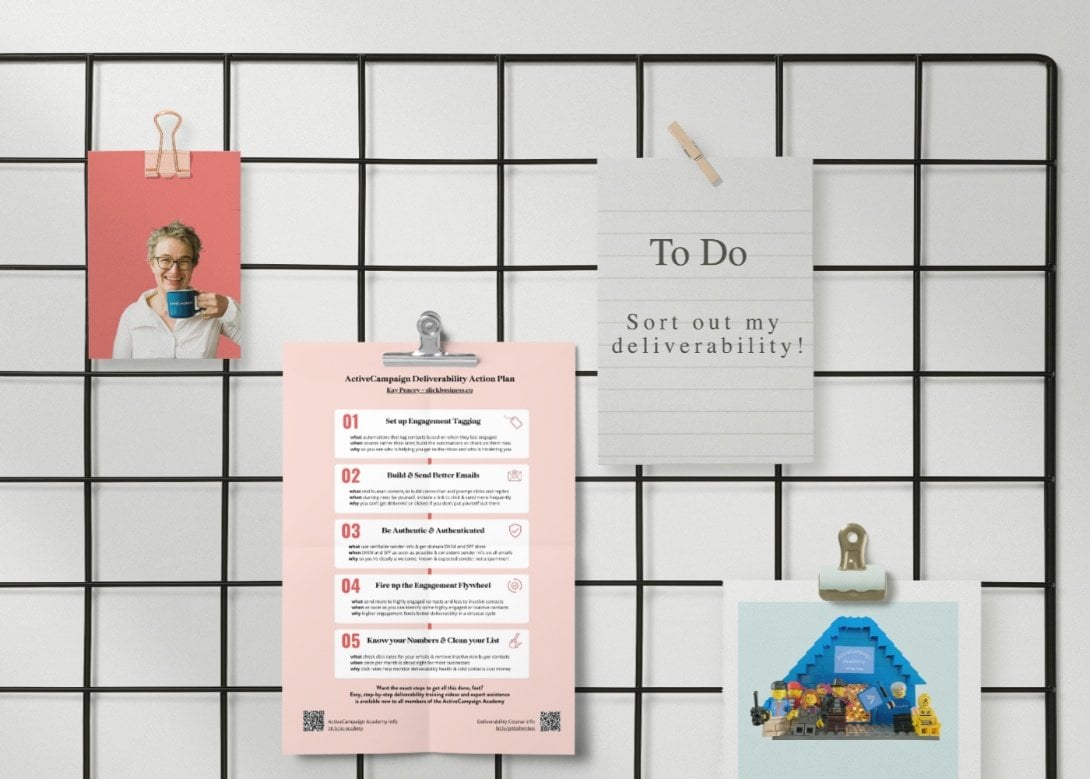 Learn what Deliverability actually means for ActiveCampaign users
You want your ActiveCampaign emails to get seen, right? Well duh! Of course you do. We have ActiveCampaign mostly so that we can send emails, to help our business to make sales, and grow.
And an email that doesn't get in front of someone's eyeballs can't do anything at all to build relationships or to sell stuff – to be effective. So job number one is to get your ActiveCampaign emails seen in the inbox.
Here are the major steps on an email's journey from your brilliant mind to your potential customer's eyeballs:
Write > Send > Deliver > See > Open > Read > Click
That send > deliver part is critically important.
The send email and then deliver email part happens behind the scenes of email marketing tech like ActiveCampaign, so it is hidden away and is easy to forget about or ignore, or never even think about in the first place.
But send and deliver matters, a lot. It's how your emails get to the inbox.
There's a name for how well your ActiveCampaign emails do at getting delivered to the inbox: Deliverability
What is ActiveCampaign deliverability?
ActiveCampaign Deliverability.

A measure of how well your ActiveCampaign emails do at reaching the inbox
Why you should care about your ActiveCampaign deliverability
An email that never gets delivered to the inbox has exactly zero chance of growing your business.
Full stop. End of. No debate.
So now you know what Deliverability means, and why it matters for every single ActiveCampaign user, whether they're brand new to sending emails with ActiveCampaign or have been doing it for years.
If you're brand new to ActiveCampaign, head straight to our free Accelerated ActiveCampaign training for a massive head-start on how to send emails with it.
Get our FREE Accelerated ActiveCampaign training now
How to know if you have an ActiveCampaign deliverability problem
As an expert consultant and ActiveCampaign teacher, I've seen more questions, confusion, problems and misinformation on deliverability, open rates, and spam folder isses than on all the other ActiveCampaign topics put together.
Deliverability is often only noticed and talked about once you realise you have a problem; when the signs of trouble with the send > deliver part hit the surface.
Five signs you may have a problem with ActiveCampaign deliverability
Falling open rates
Complaints about expected emails not showing up
Reports that your emails are getting spam-warnings shown in the inbox
Rising spam complaints
Lost leads and missed sales
Unprofitable contacts in ActiveCampaign, pushing up the contact limit you're paying for
(sadface) (rising panic)
Now here's the good part:
All of these problems are all totally avoidable (or fixable if you already have them) – Hooray!
And you're in exactly the right place to learn where to look and what to fix to keep your ActiveCampaign emails out of the spam folder and get them to the inbox more reliably.
For bang up to date discussion on deliverability ratings, or anything else to do with ActiveCampaign, come join our free facebook group for ActiveCampaign users. It's ace!
Visit our FREE Facebook Group for ActiveCampaign users now
The safe place to freak out and geek out about ActiveCampaign
Does ActiveCampaign have email deliverability issues?
I see this question all the time… Does ActiveCampaign have bad deliverablity? And it's a fair question to ask.
Quick answer: Nope
I know what you're thinking…
My open rates don't look great… and I heard someone say ActiveCampaign has deliverability issues… so if I just move to a new platform all of this will go away. And my friend's buddy's aunty moved, and their open rates went to 80% in a week!
You're not the first to think this, and you won't be the last.
But in fact, ActiveCampaign does not have deliverability issues.
ActiveCampaign consistently out-performs other email marketing platforms, year on year, in independent deliverability testing
So the answer to your open rate worries is not to move from ActiveCampaign to a new email marketing platform.
I know you'd love an easy quick solution (we'll get to that bit,s tay with me….) but moving away from ActiveCampaign is not it. This just takes your deliverability troubles with you to your new home (and feeds them a bit more, so the email-gobbling bad-deliverability spam-flagging monster grows even bigger).
The best thing about ActiveCampaign deliverability is that you are in the driving seat on getting your emails delivered to the inbox.
This is excellent news, because it means you can do many things to improve your deliverability.
If you want to see some evidence on ActiveCampaign's performance on deliverability, search for "independent email deliverability test" and look at the results. Email Tool Tester, for example, is well respected in the industry for honest and impartial rankings.
So now that escape-route is sealed off, it's time to blow the lid off your role and responsibilities, and get your agency and power revved up so that your valuable emails get seen.
Try ActiveCampaign now with a two week free trial
Learn how Engagement & Deliverability work together
Engagement -you've probably heard this word bandied about too, and been told that email engagement is important for ActiveCampaign users.
Maybe you've heard engagement tagging mentioned, or even set some up using the basic automations included with ActiveCampaign.
Maybe, in truth, you're not totally sure what email engagement means, or why it's important…
What is ActiveCampaign Engagement?
ActiveCampaign Engagement

A measure of how what your ActiveCampaign emails do when they get to the inbox
Typically, email engagement considers these inbox actions:
Why you should care about your ActiveCampaign email engagement
Email engagement is the twin star of email deliverability.
Deliverability can't be strong without good email engagement.
Engagement can't be strong without good email deliverability.
And if one goes down, the other is going down right alongside.
Deliverability and Engagement feed each other, you see. Damage one, and you'll damage the other.
Together, ActiveCampaign deliverability and engagement make either a vicious cycle, or virtuous, cycle.
I know which I'd rather have in my ActiveCampaign account. How about you?
Stay tuned to unleash the twin stars of engagement and deliverability in your ActiveCampaign account, and set them spinning in an everlasting virtuous cycle.
Your next step to win the Get to the Inbox game with ActiveCampaign
Let's face it, you spend a lot of time writing ActiveCampaign emails – and nobody wants their emails to sit in inboxes unread, unopened, with zero chances of making a sale.
Or, worse, for their ActiveCampaign emails to not even make it to the inbox at all.
It's time for you to pay attention to make sure your emails get to the inbox. Yes, now!
The longer you ignore it, pretend it's not on you, or just hope it will all work out, the longer your emails will be at risk of not even getting delivered. It's much easier to learn a bit now, with me, and do a few easy things to support email engagement, increase opens, and nurture your deliverability.
The next bit you need to know is who's who, what they each do, and why they're important for deliverability, so that you can win the Get to the Inbox game.
Get more help with ActiveCampaign Deliverability and Engagement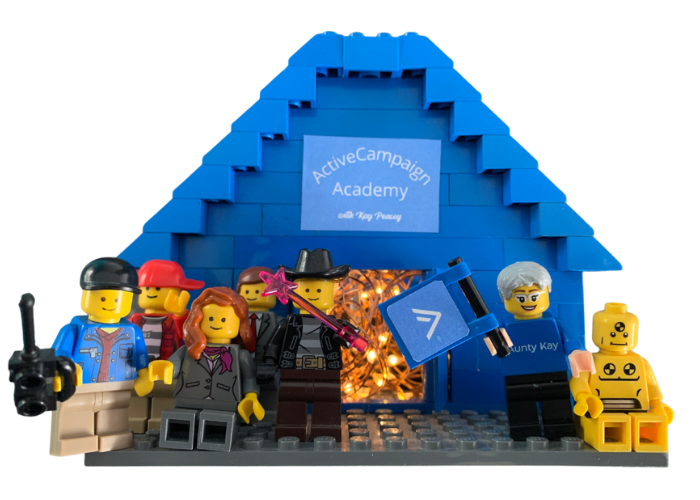 We have a stonkingly good course inside our ActiveCampaign Academy that will take you step by step through everything you need to know, and exactly what you need to do, to get better engagement and deliverability with ActiveCampaign.
Here's where to find out more about our deliverability training course – you can get it done in just one day if you get your head down. Your emails will thank you for it as they wing their way safely to the inbox to meet their destiny.
Academy membership comes with access to more courses to do ActiveCampaign the easy way, plus a lovely member community to walk alongside, and direct, regular access to Kay Peacey for live and real time with your resident ActiveCampaign expert.
Learn more about our ActiveCampaign Academy membership
Fast, effective training & support for ActiveCampaign users everywhere