ActiveCampaign added a wonderful responsive modern email builder in 2022, called the Email Designer.
The Email Designer is a big improvement on the previous builder, Classic Designer for ActiveCampaign. Great!
But if your ActiveCampaign started before October 2022, that means you have two email builders in your account.
Having Classic Designer as well as the new Email Designer brings up a few issues for ActiveCampaign users, plus some confusion, and a lot of questions.
This blog answers all the most common problems, questions and concerns about Classic vs the new Email Designer.
TLDR: the new Email Designer is great, Classic isn't going anywhere for now if you have it, but the twow designers don't play nicely together and that's a pain in the batooky for ActiveCampaign users who have both builders and a lot of emails built with Classic.
Read on, and watch the video for the stuff you need to know to work fast and easy with ActiveCampaign emails.
NB – If your ActiveCampaign account started after Oct 2022 then you only have the new Email Designer – no Classic Designer – so you can skip this one.
Follow these steps to work fast and easily with ActiveCampaign email creation
Watch Kay Peacey answer your ActiveCampaign email designer FAQs (12 mins)
Try ActiveCampaign now with a two week free trial
A fast overview of ActiveCampaign's Classic vs New Email Designer
The new Email Designer first arrived in ActiveCampaign in April 2022, and is a lot better than the Classic Designer
Classic Designer is no longer supported, but remains available to ActiveCampaign accounts that have it
ActiveCampaign accounts started after October 2022 you don't have access to the Classic email designer
ActiveCampaign accounts started before October 2022 have both email designers
The two email designers don't talk to one another nicely at all, so migration is a challenge for accounts with a lot of Classic emails
It can be hard to tell which designer was used to create any given email or template in your ActiveCampaign account
Knowing which emails are in which designer is critically important for accounts with both Classic and new Email Designer
For ActiveCampaign Academy members we have developed a super-fast way to find, identify and navigate to all emails of both types, saving hours and hours of time on email migration and management. Join today to get instant access to our time-saving resources, plus training and support for your team.
Learn more about our ActiveCampaign Academy membership
Fast, effective training & support for ActiveCampaign users everywhere
Learn how to tell which designer was used for ActiveCampaign emails
Knowing which ActiveCampaign email deisgner was used for any given email will save you a lot of time, trouble and confusion.
Here's how to tell the difference between the old Classic Designer and the new Email Designer
ActiveCampaign Classic Designer for emails has a dark grey sidebar
In Classic Design view, you cannot see the Name of your email
ActiveCampaign's new Email Designer has a light white sidebar:
In Email Design view, you can also see the Name of your email at top left
How to choose the right email builder for ActiveCampaign emails
Any time you create a new email in ActiveCampaign, whether it's in an automation or for a campaign, you will need to choose between new Email Designer and Classic Designer.
This is the point of no return.
Once you have chosen either new or classic, you can't go back and change it. If you have the wrong email designer you will need to start again and create a new email from scratch.
What to do when you can't find your ActiveCampaign email templates
If you have both Classic and new Email Designer in your account, you must choose the right email designer before the template or past campaigns selection screen.
When you don't see the email you want to use as your starting point, first try searching by name.
If it still doesn't show up, you're probably using the wrong email designer, so start over, and this time choose the other ActiveCampaign email Designer option.
In the ActiveCampaign Academy we teach a method to quickly document your ActiveCampaign emails and templates, that dramatically reduces the time and trouble you will spend on working with ActiveCampaign emails. Join now for instant access.
Learn more about our ActiveCampaign Academy membership
Fast, effective training & support for ActiveCampaign users everywhere
When to migrate your ActiveCampaign Classic emails to the new designer
any new or rebuilt emails would be best done in the new Email Designer
any Classic emails in automations can be left as they are safely for the time being
The caveat here is that ActiveCampaign are not supporting Classic Designer any more, so if things change or go wrong, that tech is not going to get fixed or supported by them.
In the longer term, I advise hiring a skilled VA to migrate your Classic automation emails to the new Email Designer.
The ActiveCampaign Academy is a really great place to either train your own VA or team member to do the email migration, or to find a skilled person to get it done for you.
Learn more about our ActiveCampaign Academy membership
Fast, effective training & support for ActiveCampaign users everywhere
Get more help with using the new Email Designer in ActiveCampaign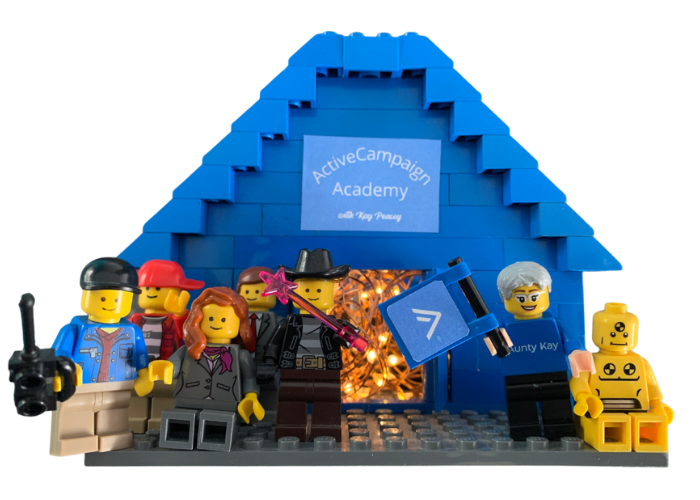 In the ActiveCampaign Academy we have a training course with import links, specific, clear advice, guidance on how to use specific block types, and migration tips and decision making support for you.
This is the fastest, easiest way to get your Classic email resources moved to the new designer, and to create new Email Designer content fast and without making a ton of mistakes and wasting time.
So come on in to the ActiveCampaign Academy, and you'll have Kay Peacey and the Slick Business team, and all your lovely fellow members, to guide you every step of the way to fabulousness with ActiveCampaign.
Learn more about our ActiveCampaign Academy membership
Fast, effective training & support for ActiveCampaign users everywhere