ActiveCampaign is the email marketing automation platform to choose if you're a serious business aiming to thrive and grow.
Its capacity to transform the efficiency and scalability of small to medium business is unparalleled in my experience.
I work exclusively with ActiveCampaign and teach how to use it in your business, wherever you are in the world.
Try ActiveCampaign now with a two week free trial
Take these steps to learn what ActiveCampaign is
Read about what ActiveCampaign actually does
ActiveCampaign is an Email Marketing Automation platform with big potential to help your buisiness grow and thrive, without breaking you on the way.
Let's break that down:
ActiveCampaign sends emails
The Send Emails part is pretty straightforward.
With ActiveCampaign, you can send automated personalised emails to leads and customers, with the right message at the right time.
ActiveCampaign allows you to collect things you know and learn about your people, and store that info.
The more things you know about your people, the more personal (in a good way!) you can get with the content you send them in emails.
When an email lands in the inbox that speaks right to what you want and need, right at that moment in time, you're much more likely to feel warm and fuzzy about the business that sent the email.
And when you're feel the love for a business because they sent you a great email at the right moment, using ActiveCampaign, you've a lot more likely to pay for their services or product.
So it's not just about sending any old email.
ActiveCampaign helps you to send better emails, that build relationships, and drive sales.
ActiveCampaign supports your marketing
The Marketing part of what ActiveCampaign does passes a lot of people by, but you can, and should, use ActiveCampaign for far more than just sending emails.
ActiveCampaign supports just about every part of your marketing machine to perform better with less effort and at a lower cost to you.
ActiveCampaign can work with your website to send new leads into an email funnel, and seamlessly deliver a matching ad on social channels, and an SMS to their phone – and that's just the beginning. Whatever you want your marketing funnel to look and feel like, from your point of view and the customer's point of view, ActiveCampaign will support you to be able to deliver that as a real life experience.
ActiveCampaign means your marketing channels work together, fluently, and fast, to collect leads, warm them up, and convert them to buyers.
ActiveCampaign automates repetitive tasks in your business
ActiveCampaign Automation part is like hiring the most efficient reliable and fast team member, ever.
With ActiveCampaign you can automate a huge range of internal and customer-facing processes.
Unlimited automation is included on all ActiveCampaign plans including Lite.
That means you can have as much repetitive stuff in your business as you like set to run on autopilot, even when you're asleep.
From signing up new leads to your list, through delivering digital products in super-quick time, to giving the human you a nudge to take action, right when you need it, automation is ActiveCampaign's super-power.
Automations in ActiveCampaign will release you from drudgery and repeating, boring admin tasks, and free you up to got back to being being the real you – the creative, excited, thriving heart of your business.
Try ActiveCampaign now with a two week free trial
Take a FREE tour of ActiveCampaign with an expert guide
It's great for you to hear about ActiveCampaign, but showing you is a lot more fun and effective than telling you about it.
And even better than that, is when you get in there to see and do, right alongside, as I show you around.
We have this awesome (and totally free) ActiveCampaign training, Accelerated ActiveCampaign and it would be my pleasure to give your the tour of this fantastic marketing automation platform.
I promise to skip all the dull bits you don't need to know, and take you straight to the best cookies in the jar. And, it runs perfectly alongside the free two week trial of ActiveCampaign, so there's no cost barrier.
Hey Kay, just wanted to say I'm in the first lesson, building ActiveCampaign custom fields and I'm already on overdrive with the potential. Absolutely brilliant course, NO FLUFF!!!

– Tom S
I now know more about what ActiveCampaign can do which is really exciting. You have shown me new features and given me more insight to things I was using but not to their full potential.

– Angela B
Get our FREE Accelerated ActiveCampaign training now
Get more help with how to use ActiveCampaign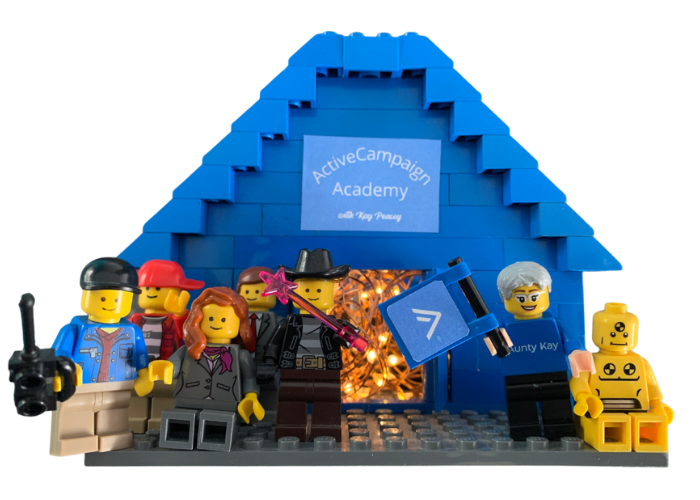 If you're ready to skip the free stuff and commit to doing great things for your business with ActiveCampaign, you're welcome to come straight on into our ActiveCampaign Academy.
This is where Kay Peacey and the Slick Business team deliver world class training for ActiveCampaign users all over the globe.
We support users as individual humans, and meet them where they're at with email marketing and business automation. So whether you're a complete newcomer to email marketing, or an experienced marketer looking to move or improve with ActiveCampaign, we've got you covered.
Courses, resources, community, and live, frequent Q&A calls with Kay Peacey, the renowned ActiveCampaign expert consultant and teacher.
Learn more about our ActiveCampaign Academy membership
Fast, effective training & support for ActiveCampaign users everywhere