I love Acuity Scheduling. It's a total dream to work with, and I see businesses getting incredibly good value for money from using Acuity.
Try ActiveCampaign now with a two week free trial
Take these steps to use Acuity Scheduling in your business
Learn what Acuity Scheduling actually does
Acuity allows your customers, or leads, or whoever else you want to schedule stuff with, to schedule stuff with you in their own sweet time without wasting any of yours on tiresome back and forth calls or messages trying to find a time that suits.
This is a win for everyone involved, and it's pretty much expected now that booking an appointment should be fast, easy and painless. Acuity scheduling is on of the leading tech tools to get appointments in the calendar with minimal friction on either side.
Why do businesses love Acuity Scheduling?
Business love Acuity because it saves them time and money, and gives their customers and staff a smooth, painless experience when stuff needs scheduling.
Acuity integrates beautifully with almost unlimited other tech tools. It's really good at integration to ActiveCampaign, using Zapier (or Pabbly, or Make to join the dots)
We teach a cours on using Zapier with ActiveCampaign inside our ActiveCampaign Academy. One of the most common use cases for ActiveCampaign users is to get Acuity appointments into the ActiveCampaign contact records – and it's easy when you've been show how in our super-quick and on-point training course.
What do businesses use Acuity Scheduling for?
1 – Acuity improves the experience for customers dramatically
Customers and leads can, totally independently, and in their own time:
select appointments
book in
give details – address, dress size, access requirements…
pay
add it to their calendar
cancel
re-schedule
get a text reminder
get pre-appointment emails so they're prepared
know the exact location or get the video call link
answer follow-up questions
2 – Acuity saves staff time
Think of all the time that gets used up on the back and forth that usually goes with making appointments,
Now imagine that gone, completely, forever.
Staff teams can:
block out unavailable times
set working hours
set buffer times for different types of appointment
get call links, reminder emails, calendar entries, all hands-off
know that clients are well prepared for their appointment
allocate leads to a team of staff fairly and evenly
Get help integrating Acuity scheduling with ActiveCampaign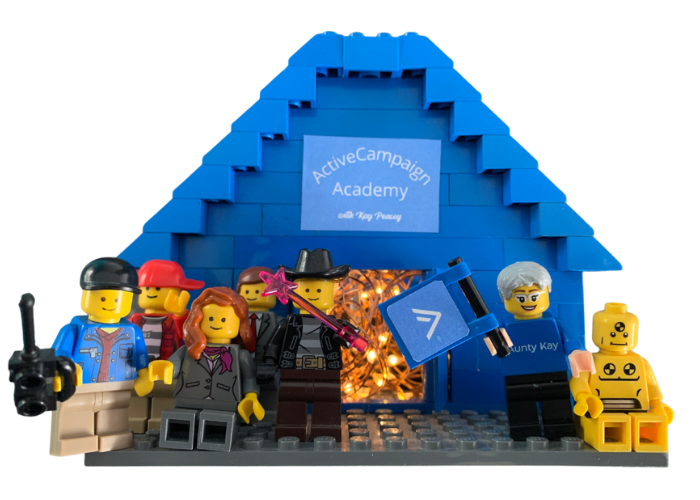 Getting your tech tools to talk to each on autopilot is the fastest easiest way to reduce admin headaches and errors, and save yourself a lot of time and trouble.
In the ActiveCampaign Academy we teach exactly how to integrate Acuity with ActiveCampaign, so that your appointment scheduling is a seamless and offortless part of your automated processes.
When you want to blend appointment scheduling into your welcome series, or VIP enquiry, head to the ActiveCampaign Academy and we will help you get it done fast, and right first time.
Your customers will love the fluent, fast experience, and happy customers buy more – it's a win win.
Learn more about our ActiveCampaign Academy membership
Fast, effective training & support for ActiveCampaign users everywhere