Get more attention, engagement and action from emails you send with ActiveCampaign by adding a video or gif to your emails.
It's easy and fast to embed a video clip that invites a click and takes them straight to watch the whole video in YouTube, Vimeo or on another page or host.
Adding gifs and video clips gives ActiveCampaign emails a massive boost on grabbing attention and driving interaction and sales. You'd be daft not to use gifs in your emails, frankly, but it's not obvious how to do it.
I'll show you quickly how, and why, to use gifs and videos in your ActiveCampaign campaign and automation emails. It's time to get your gif on!
Try ActiveCampaign now with a two week free trial
Follow these steps to add video or gifs in ActiveCampaign emails:
Watch the tutorial on using video and gifs in ActiveCampaign emails (8 mins)
Try ActiveCampaign now with a two week free trial
Learn how to add a gif to an email
Adding a gif to an ActiveCampaign email is very easy to do – you're going to love it.
You will need the .gif file of your chosen gif
In the ActiveCampaign email builder, add an image block
Upload and select your .gif file, just like you would for a .png or .jpg image file
Erm… that's it.
You have the same size and position controls as you do for still images, so you can get your gif looking just how you want it – not too big, not too small.
For extra impact and clicks, add a link behind your gif using the url link setting for the image block.
What are you waiting for – go get your gif on!
And if you need to see how to add an image block in an ActiveCampaign email, go grab our free Accelerated ActiveCampaign training, where we have a step by step guide for you.
Get our FREE Accelerated ActiveCampaign training now
Get inspired on when to use gifs with ActiveCampaign
My favourite gifs to use in ActiveCampaign emails are the ones that make people feel something.
Emotion-gifs the best gifs for provoking a reaction – we need to get replies to help with deliverability and getting to know our contacts.
A picture paints a thousand words, but a gif paints a million or more. This is even more true if your audience is multi-lingual, or in any way prone to not actually reading the words. Highly visual audiences respond super-well to emotion gifs.
Despair, joy, frustration, love, fear and excitement are all easy, and a lot of fun, to convey with a moving human face. And why not make it your face?
I had a video dude record me doing impressions of every emoji we could think of. The emotion gifs I made from that get a huge response when used in emails.
Go on… I dare you… get your phone, record yourself pulling some emoji moves, and drop some actual human-you emotion into an ActiveCampaign email using a gif in an image block.

Here is my most used gif:
This gif (known in Slick Business as the Kay-waah gif) is very handy when I make a howler and need to confess, and always gets a lot of replies to an email where I've used it.
Embed video in your ActiveCampaign emails with a playable gif
When we see movement and can watch a clip, we're much more likely to take action.
So when you want your email recipients to do something, you should show them how that looks, with a gif.
And this brings me to the answer for this extremely common question:
How do I embed a Vimeo or YouTube video in my ActiveCampaign email?
Fact: you can't, and shouldn't, embed a full playable video in an email you send with ActiveCampaign.
What you can and should do, is create a gif from your video, and send that in your email.
Add a direct link to watch the video on Vimeo or YouTube to your gif in the image block of the email, and your work is done.
For videos hosted on Vimeo or YouTube, grab a gif to use in the email, and invite them to click the gif to watch the video..
Top Tip: Use a gif of a highly visual moment from your video.
Vimeo makes this very easy to do, with built-in gif creation – this is how we make the Slick Business gifs for use in our weekly ActiveCampaign tips emails.
Top Tip: To encourage even more clicks, add a sticker of a play-head, or "watch now".
One little thing… there is a Video block in the ActiveCampaign email builder, but I don't recommend you use it – use the gif method instead.
The video block in ActiveCampaign email is OK, and gets the job done if you're in a hurry, but it's going to use either a random still, or the thumbnail. The movement you get from a gif, and your control over the moment you're showing them from the video, gives you a lot more control and clickability for very little extra effort.
Get our FREE Accelerated ActiveCampaign training now
Prompt contacts to take action with gifs in your ActiveCampaign emails
When you want contacts to take action from their email inbox, a gif is a great way to show rather than tell, and it's more effective than text in most cases.
Want them to go to their student dashboard?
Create a gif of a course opening up on that dashboard of dreams.
Want them to go purchase that thing they left in their cart?
Show them what that looks like and put a cart link behind that gif.
You get the idea…
Now, where do you have a call to action in an email that's been dust-gathering for too long?
Go on, get giffy with it. You know you want to.
Top tip: Canva is fast and easy to use for creating gifs to use in your ActiveCampaign emails.
Learn more about our ActiveCampaign Academy membership
Fast, effective training & support for ActiveCampaign users everywhere
Add a playable video tutorial to an ActiveCampaign email
Telling people how to do stuff with an ActiveCampaign email is great, but showing them how to do it is often better.
Showing how to do something, on a loop, right there in an email, with a gif, is pure instant-education gold that feels effortless for the recipient.

For example, I can describe to you, step by step, where to click in ActiveCampaign to add a .gif in an image block and put a link behind it…
I can even add a series of still images, and maybe go as far as putting some pointy arrows on them to help you get there.
But if I show you the actual moves, in a gif, and have it loop around the whole time your eyes are on it, that's going to work a lot better (that's the sort of thing we do for our ActiveCampaign Academy members just to make their learning even easier and faster.)
There are a multitude of use cases for informative and educational gifs.
Educational gifs are massively under-used in emails, so this one's an open goal for getting ahead of your competition for the instant gratification needs of your customers and leads.
Read 10 tips for using gifs and videos in ActiveCampaign emails
Use gifs sparingly, and in a way that resonates with your audience
Gifs can be big files, so export export low res (Vimeo has this option)
Do put a link behind the gif to invite a click – clicks from ActiveCampaign emails are always a good thing
You can use any .gif files but by far the most effective ones are custom gifs featuring you and your team
Don't be afraid to look silly in gifs – they're an informal sort of a thing
Canva is great for rustling up a quick moving-words-and-image gif
Vimeo let's you grab a video snippet to make a gif
Loom does them too (and calls them video thumbnails just to be confusing)
Giphy is my go-to for creating gifs with stickers and words added to selfie videos or stills
Your own gifs can be added to Giphy in a channel, with links to your content – all the Slick Business public gifs are here
Get more help with when and how to use video and gifs with ActiveCampaign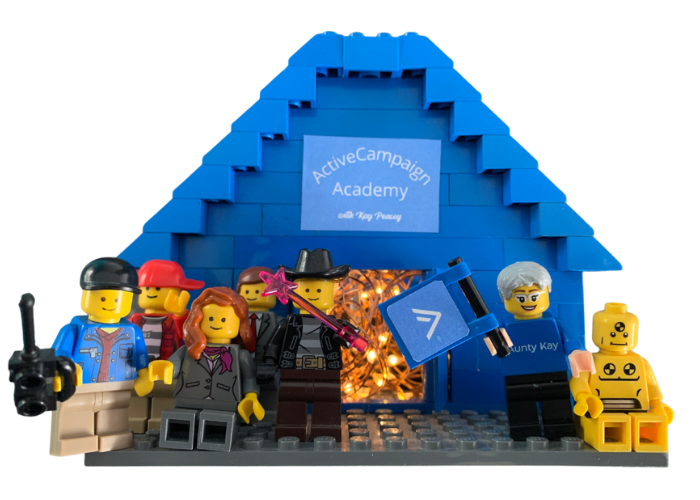 In the ActiveCampaign Academy, we advise on exactly when to drop in a gif to connect, build emotion and relationships, prompt action, or show instead of telling.
A well timed gif in your ActiveCampaign emails can make a huge, measurable difference to how effective an email is at converting an open to a click to purchase or register. And we know just when to roll them out in your ActiveCampaign Automations and Campaigns for maximum giffy impact.
So come on in to the ActiveCampaign Academy, and you'll have Kay Peacey and the Slick Business team, and all your lovely fellow members, to guide you every step of the way to get your gif on with ActiveCampaign.
Learn more about our ActiveCampaign Academy membership
Fast, effective training & support for ActiveCampaign users everywhere