Canva is the design tool that non-designers (and actual designers too) can use confidently to create great images, fast.
Here at Slick Business – the home of ActiveCampaign teaching for real businesses – the whole team uses it. Literally everyone in the business, from our web dev Tom to our social posts designer Nic. Even I use it, and I'm the biggest design dummy ever, as the rest of the team will rightly tell you!
Canva is a beautifully intuitive design tool that even total design dummies (like me, Kay Peacey) can work with, quickly, to create the images needed to market our fast-moving businesses in this highly visual world.
Try ActiveCampaign now with a two week free trial
Follow these steps to see what's so great about Canva
Learn what Canva can do in your business
Every business needs images. Lots of them, fast, every week.
Even if you have the budget to hire full-time design help, getting images and grarphics done fast enough is a big problem that slows down growth and adds hours to your working week.
The solution is to use design tech that everyone in your business can use with confidence, and without producing images that look like your non-internet-using aunty made them using MS Paint (yes, I'm that old….)
Most humans can use Canva on the first try, with zero tuition, and produce a good looking image from one of their huge range of templates. Canva is the most intuitive design tech I've ever used, by a long way.
And Canva does not sacrifice capability in the quest to reduce complexity – it pulls off a total blinder by being simple, but not losing depth and breadth of possibility.
Hear why small businesses really love using Canva
Every small business needs compelling images for websites and social media, and they need them fast, and they need to make them quickly.
Canva enables you to create the images you need every day, quickly and without needing to hire a designer, or to bother the one you have in your team late at night, on the weekend, or when you're just plain in a hurry.
This means everyone gets their job done faster and at lower cost. And launches go out on time. Emails get the image they need to prompt action. The web page for a last minute promo gets a suitable image in 10 minutes flat.
Businesses get more impact and return from their social media output when they post more frequently and with better visuals – Canva makes this possible for every business, everywhere.
Can you tell I'm a fan?
Like, literally, Canva changed my day to day business life, and my self-image, from design-numpty to oh, this isn't so bad, to crikey, look, I made a pretty thing, all on my own, that doesn't loook like hell on the page!
See what Canva Pro level has that the free level doesn't
With the pro Canva level, you get some killer benefits on top of all the free stuff:
re-sizing of designs – essential for content re-purposing
brand kit – save your fonts, colours and preferences
folders – organise all your images and designs
premium design elements – like photos, frames, textures, videos
For context, I got along just fine with free for a year, then upgraded to Pro and suddenly got all my Canva work done in half the time, and no longer broke into a cold sweat at the thought of having to post some new content on Facebook, Instagram, Pinterest, and Twitter, and my website.
For me. this is easily worth the annual fee. I encourage everyone to use the Canva Pro level – it's seriously liberating!
My favourite thing right now is the background remover, which can do wonderful things with daft selfies when you're dressed up like an ActiveCampaign ninja….
There's tons of free content out there on how to use Canva, but honestly, it's pretty intuitive and if I can do it, you can too.
Trust me when I say I am a total design dummy, and Canva is the first time I have ever been able to produce good enough stuff on the design front.
Discover how to use Canva with ActiveCampaign emails
Images in emails dramatically increase engagement (that's opens, reads, clicks and replies) which in turn increases deliverability (your chances of getting past the anti-spammer guardians to get your emails delivered to the inbox) – so it's a total no-brainer to use some images in your ActiveCampaign emails.
We use it every single week for our regular emails (you can sign up here for our ActiveCampaign tips emails if you're not getting those yet) to create quick graphics, or edit a screengrab to illustrate a teaching point, or just make a silly picture to make our readers laugh in the face of yet another email in their inbox trying to teach them something as notoriously dull as email marketing automation.
Canva can make gifs and everything – and using gifs in your ActiveCampaign emails is also a very smart move.
Keep the image size down for use in emails – no one needs to see your (or my!) face at 1080 pixels wide on their desktop, and it slows down email clients – keep it simple, and small. Happily, Canva has lots of controls for download settings so this is super-easy in Canva.
Get more help to use Canva for marketing with ActiveCampaign
Every ActiveCampaign user who wants to leverage it well and grow their business needs to have an all-round skill-set, and that includes when, where, and how to use an image created in Canva.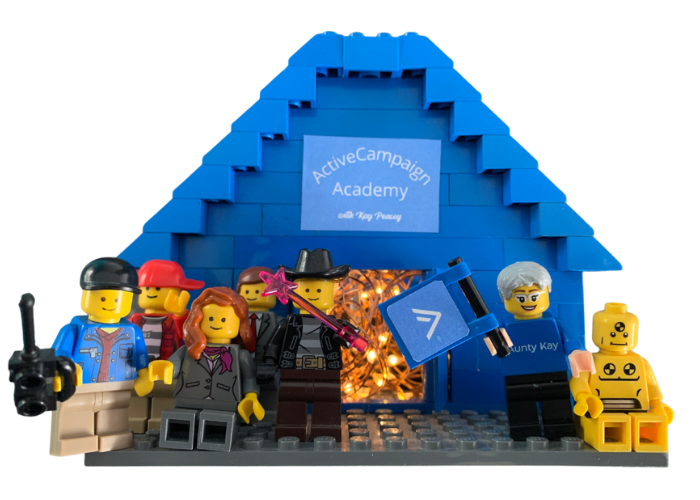 In the ActiveCampaign Academy, we support every member to build emails that get delivered, opened, read and clicked, using smart placement of images, with link click actions, do drive growth and sales.
With courses, community, regular live calls, and a wealth of ActiveCampaign and marketing expertise on tap from host Kay Peacey, the ActiveCampaign Academy is the place to be when you want to get more value from your ActiveCampaign account, and drive sales with email marketing.
Oh, and yes, I made that image of the Lego ActiveCampaign Academy using Canva – my kid built it, we grabbed some mini-figs and a bunch of fairy lights, and took a pic on my phone.
I'm a really shabby photographer too, so the pic was awful, but we salvaged this one with the Canva background remover. And now it's everybody's favourite promo pic for the ActiveCampaign Academy. So there you go! Canva for the win.
Learn more about our ActiveCampaign Academy membership
Fast, effective training & support for ActiveCampaign users everywhere