You don't want to be sending all your business emails manually, especially newsletters, offers or welcome emails, so you'll need an email marketing service to work with you to save time.
Usually, this means buying in to a standalone service to get the right message to the right people at the right time in a reliable and efficient way.
If you pick the right one, you'll get a whole lot of other automation possibility thrown in, and really be on your way to having your business processing running without you manually turning the handle of every little thing.
Here's my roundup of what to look for and why, which email marketing providers are offering the best service for small businesses right now, and my top tips on how to move in or switch over.
Get our FREE Accelerated ActiveCampaign training now
Follow these steps to choose your email marketing service:
Learn what to look for to choose the right Email Marketing Service
Pricing
Should be transparent, fair and comprehensible, preferably with option to pay annually or monthly.
Watch out for booby-traps, like plans that ratchet up without a grace period, and then won't let you drop down again.

Email Delivery
Should have a reputation for strong deliverability (this is a measure of whether emails sent this service reach the inbox reliably).
Watch out for frequent outages that affect lots of users, or a poor sender reputation meaning emails sent through their service are more likely to be marked as spam, through no fault of your own.

Custom Fields and Segmenting
Should have unlimited custom fields so that you can get the data you need in there. Plus unlimited tags, lists, and search, filter or groups for identifying chunks of your contacts easily.
Watch out for too few, or restricted, options for ways to enter data, label contacts and segment them – this means you can't treat contacts as individuals. Personalisation is a key feature, and the more segmenting options you have the better you can do it.

Tracking and Measuring
Yes please to reports, data summaries, graphs and charts.
And an even bigger yes please to automatic tracking of all the things your contacts do, like clicking links, replying, forwarding, visiting pages on your site (that's a big one – huge bonus having that) and, ultimately, buying your services, and then being able to segment them based on what they did, or didn't, do.
No thank-you to extra charges for reporting and tracking
Automation and Integration
Bonus points for multi-step automation features, for sending emails and texts or site messages, sending you notifications, waiting for a period of time or until a certain thing happens, and many other options. Automation is amazing and unleashes all sorts of time saving for you on those repetitive processes.
Heavily restricted (or absent) automation is a deal-breaker for me.

Integration is where your contact records can be connected across other services you use. For example a client scheduler, or an accounting tool, or your e-commerce shop.
No integrations means more busy-work for you or someone you pay to do it, and that gets to be a problem as you grow.

Support and Community
Should have reliable, responsive support, preferably with live chat, and great documentation.
If their user documentation is in poor order, that's a bad sign. You'll be slowed down learning the platform and more reliant on waiting for a person to help you.
And speaking of people, the most important people to my mind are the user community. They are the ones who are there in the Facebook group round the clock, looking out for each other and digging into the weird little use-cases, dark corners of little used features, and solving real life business needs day in day out. So they're your best resource.
No official community is, to me, also a bad sign. An unofficial one is better than nothing, but the moderated user groups are the best ones.
Compare Leading Email Marketing Services for Small Businesses
This is not in any way a comprehensive list of possibilities. These are my picks, based on current services offered, and on my extensive expert knowledge and experience of the marketplace at this point.
MailChimp probably needs no introduction due to its ubiquity and established place in the market, but it's had some significant change recently and is no longer (in my view) the default best option for starting out with email marketing.
MailerLite is a younger, smaller company, with a growing fanbase amongst those who know email marketing best, and it's the main competition for Mailchimp right now.
ActiveCampaign is a fully featured marketing automation platform. It's the one that I use, and my go-to for all my digital marketing consultancy clients.
ConvertKit is also a fully featured marketing automation platform. It leans a little more towards e-commerce businesses, and bloggers with very large lists. The pricing isn't so friendly as ActiveCampaign for the smallest lists. They have recently introduced a freemium model with limited access to features.
Pricing is for monthly payments rounded to nearest $, as quoted on their websites in May 2019. Annual payment will save you money on all except Mailchimp.
Get our FREE Accelerated ActiveCampaign training now
CONTACT LIMITS
| | | | | |
| --- | --- | --- | --- | --- |
| Maximum counted contacts | 500 | 1k | 2k | 3k |
| MailerLite (Standard) | free | free | $15 | $29 |
| Mailchimp (Free or Essentials) | free | free | $34 | $59 |
| Mailchimp (Standard) | $17 | $59 | $59 | $90 |
| ActiveCampaign (Lite) | $15 | $30 | $61 | $99 |
| ConvertKit (Creator) | $29 | $29 | $49 | $49 |
It's important to know which contacts are counted towards your contact limit:
| | |
| --- | --- |
| | Contacts that count towards your limit |
| MailerLite | Any contacts "used" within past month – handy if you have a lot of churn on your list |
| Mailchimp (Free or Essentials) | All contacts not deleted or archived (or reactivated) including unsubscribed and inactive contacts |
| Mailchimp (Standard) | All contacts not deleted or archived (or reactivated) including unsubscribed and inactive contacts |
| ActiveCampaign | All contacts subscribed to one or more lists and not hard bounced |
| ConvertKit | All subscribed contacts, not bounced, not unsubscribed |
Additional notes
MailerLite
Has a small but loyal community and a growing reputation.
Mailchimp (Free or Essentials)
Limited to one automation step – ie a welcome email.
Limited to 1 list on free, up to 3 on Essentials
Mailchimp (Standard)
Limited to 5 lists
ActiveCampaign
Includes site tracking, perform maths, and unlimited integration and automation on the Lite plan
ConvertKit
A solid reliable platform, especially for e-commerce
Try ActiveCampaign now with a two week free trial
Comparison Summary for leading email marketing platforms
If you're well under 1000 contacts, are already with Mailchimp, and you don't mind the limitations of the free or essentials plan, you could stick with them. But do keep an eye on those terms and conditions, and be sure to consider your options if you get anywhere close to the limits of your plan.

If you're under 1000 contacts and want to have unlimited sends, plenty of automation options, and clear pricing, I'd go with MailerLite. They've got a really strong reputation in digital marketing land amongst those who really know their stuff, and their service is great at that pricing.
If you have a larger list, are looking to grow, or have business systems and processes for which you would like to to make use of integration and automation in a more powerful way, ActiveCampaign is the clear winner. For my own business, I use ActiveCampaign on the Lite plan, because it means I can automate things like invoicing, scheduling and on-boarding new clients really well. It's the best $9 I spend on by business each month.

If you're in e-commerce with a big store, or a blogger looking to funnel market in a big way, ConvertKit might suit your needs better than ActiveCampaign so take a look at both then make a choice.

Try ActiveCampaign now with a two week free trial
Steps for success when starting with a new email marketing service
Check the price for your needs right now – the contact and sending limits usually dictate this bit.
Check the price for where you plan to be in a year or two's time, so you don't get caught out when you grow.
Sign up (using the free trial if they have one) when you've got a little slack in the system to allow you to move in and explore.
Once you've got your account, join their official community of users – these guys are your biggest source of fast help at this point.
Bring in your contacts with care – if there's a free migration service, use it – being sure not to accidentally mark previously unsubscribed contacts as subscribed.
Send to your most engaged contacts first – this trains your new provider to treat you as a good sender, and it's really important to do this if you have a list bigger than about 1k contacts.
Test things you set up by using a dummy email address as a pretend customer. I have a set of invisible friends called Horatio, each with their own gmail address, to run through my processes. This way I can see how emails look in a real inbox, and test that things work how I think they should.
Connect other services you use, like ecommerce, or a scheduling tool via integrations. Use the documentation, any on-boarding calls, and the user community for support on what's possible and how to do it.
Take a free course if they offer one as part of the on-boarding – these are a great way to get to know what's in there and how to make the most out of your investment. And listen to their podcast.
Use all the things – like, actually send emails to your contacts, automate some repetitive stuff, start tracking, labelling or tagging or whatever so you know as much as possible about those contacts.
Try ActiveCampaign now with a two week free trial
Get more help with your email marketing automation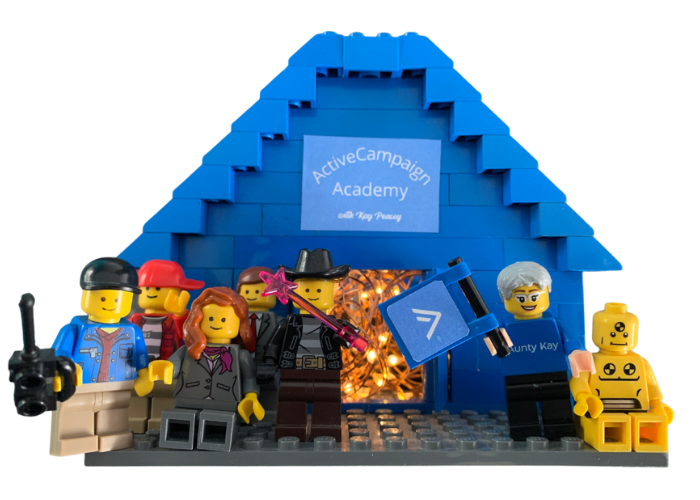 Top tips from Kay Peacey:
Use the features you're paying for to support your processes and automate routine tasks to free you up.
Send the right person the right message at the right time.
Use the time you save to do more of what you love.
And if you're headed to ActiveCampaign, or already using it, do our free training to get you started on the right foot. Then come and find us in the ActiveCampaign Academy for all the support you need for pain-free ActiveCampaign happiness.
We know exactly how to steer you safely and quickly through migration and getting started the easy way.
I've just migrated from MailChimp to ActiveCampaign in just two weeks, and would never have dared to do that without you and the Academy. Things seem so much simpler here, and I feel so supported here in my discovery of ActiveCampaign!

– Delphine D, ActiveCampaign Academy member
Learn more about our ActiveCampaign Academy membership
Fast, effective training & support for ActiveCampaign users everywhere