Engagement tags in ActiveCampaign are the key to getting your emails to the inbox more reliably.
Setting up engagement tagging well, and knowing how to monitor it and (super-important) what to do with that information, is essential for every single ActiveCampaign user from teeny tiny Lite plans right up to massive global Enterprise ActiveCampaign plans, because we all need our emails to get delivered, and not end up in the spam folder.
The sooner you start using engagement tags properly in ActiveCampaign, the better – and I'm here to guide you on the what, the why and the how to get it done fast, easily, and for maximum impact on your ActiveCampaign deliverability.
Engagement and Deliverability in ActiveCampaign are twin stars – if your engagement is good, your deliverability will get stronger. But if your engagement is not good, your deliverability will nose dive.
In this blog I'll show you how to give more fuel to the ActiveCampaign contacts who engage and improve deliverability, and freeze out the contacts who are not engaging and harming our deliverability.
Try ActiveCampaign now with a two week free trial
Follow these steps to understand ActiveCampaign Engagement Tags
ActiveCampaign Engagement Tagging Explained in 5 mins with Kay Peacey
Grab our FREE ActiveCampaign Deliverability Action Plan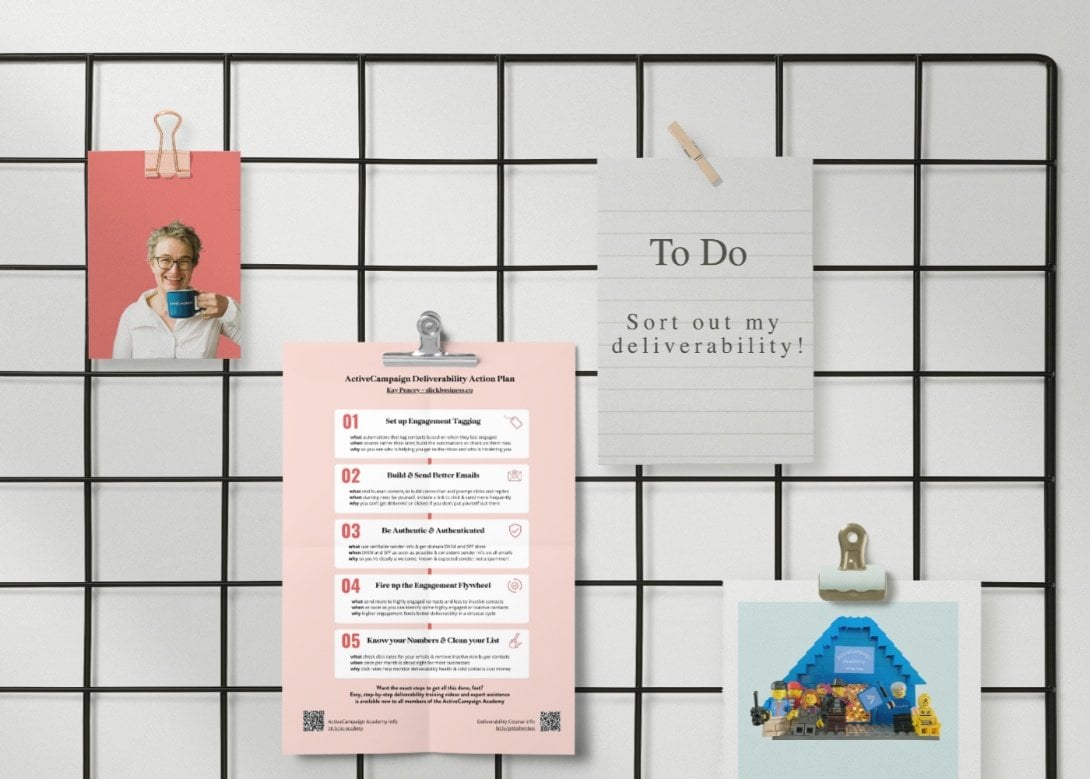 Learn how engagement and deliverability work together in ActiveCampaign
Engagement monitoring in ActiveCampaign is critical in your deliverability mission to get your emails to the inbox ahead of the spammers.
In email-land, Engagement and Deliverability are twin stars, tied together – when one rises, the other rises.
And you do not want either (or both – eek!) of these twin stars to fall on your email-marketing head…
ActiveCampaign Deliverability is a measure of how well your ActiveCampaign emails do at reaching the inbox

Deliverability matters a lot, because an email that never gets to the inbox has exactly zero chance of growing your business.
What is engagement in ActiveCampaign and why does it matter?
Email engagement is the opens, clicks, replies and other stuff that shows your emails are wanted – these are important inbox behaviours – more here on how to get your ActiveCampaign contacts to help keep your emails out of the spam folder
ActiveCampaign and the Mailbox Providers are watching for high engagement to signal that your emails are wanted, and that they should get prime inbox placement – aka great deliverability.
More engagement > more trust > better deliverability
Think of it as an engagement and deliverability flywheel.
But if you neglect engagement monitoring, this flywheel can end up going the wrong way
Less engagement > less trust > reduced deliverability > even less engagement… argh!
Next we look at how to keep that engagement up with great contact inbox behaviours
Discover the purpose of Engagement Tags to find your best ActiveCampaign contacts
You need to know which of your ActiveCampaign contacts are giving your emails all the engagement with great inbox behaviours, so you can send them even more emails to engage with.
This fuels them up to do even more engagement, which helps your ActiveCampaign email deliverability to stay high.
How to get the engagement and deliverability flywheel spinning to help your emails get to the inbox.
We need to encourage the contacts who are cheerleading us at the inbox, and to do that, we have to know which ones they are.
We can do that, on autopilot, by adding Engagement Tags in ActiveCampaign.
There's some other clever stuff involving dates in custom fields, that I teach in the ActiveCampaign Academy – but the most important part is the engagment tagging.
You also need to know which contacts are not engaging reliably, so that you can freeze them out to reduce the impact of their inaction – send less to these guys, so they can't hurt your deliverability flywheel.
Think of it like a tug-of-war where you want to add strength to the team you want to win by cheering them on, and sabotage the other side by putting banana skins under their feet.
This is called engagement monitoring. Next we'll look at how that part gets done in ActiveCampaign on autopilot.
Learn more about our ActiveCampaign Academy membership
Fast, effective training & support for ActiveCampaign users everywhere
Hear how to use engagment automations in ActiveCampaign
ActiveCampaign encourages all users on all plans to set up engagement tagging. And you definitely should.
Engagement Automations (including the very basic ones that are included as automation recipes for all ActiveCampaign users) watch for email engagement activity (typically opens and clicks) and tag contacts based on how long it is since they last engaged with an email.
What Engagement Tracking Automations are for in ActiveCampaign
There's lots of detail to dig into for the engagement automations (like exactly when to add or remove a Tag that shows a contact has been actively engaged, and exactly what activity counts as engagement). But here's the main part you need to know:
Engagement tags are added and removed by engagement automations that you set up in ActiveCampaign.
Engagement tags show how engaged any contact is at the time you're looking at them.
ActiveCampaign Tags are knowledge. Knowledge is power.
The four ActiveCampaign Engagement tags
Recent Activity
Engaged
Disengaged
Inactive
So now you can see who your Engaged cheerleader contacts are – the contacts that help you stay out of spam – and you can feed them more lovely emails to click on.
And you also know which Inactive contacts have drifted off, gone to sleep or left the building – so you can stop sending them so many emails that they don't want, and reduce the harm their inactivity does to your deliverability.
The engagement automations and tags are a big win for your ActiveCampaign email deliverability.
Want a quick booster on how to use automations in ActiveCampaign? Head to our free training Accelerated ActiveCampaign for some fast, no-fluff, best-cookies-in-the-jar guidance in short bite-sized videos.
Get our FREE Accelerated ActiveCampaign training now
Know why to set up engagement monitoring sooner not later
Engagement Tagging for ActiveCampaign is really hard to backdate, so please, get it going sooner rather than later.
How to find all the contacts who have not engaged with my ActiveCampaign emails in the past three months
To answer this, you need to have engagement tagging automations set up in ActiveCampaign. Ideally, you would have set them up three months ago – but starting now is the next best time!
Even if it's just the basic ActiveCampaign Engagement Tagging automations (they're called Part 1 and Part 2), I encourage you to do it.
How to stop engagement automations swamping the ActiveCampaign activity feed?
The basic ActiveCampaign engagement tagging automation recipes will trigger a lot and swamp your contact activity feeds. There's a quick, sneaky trick to stop that happening, and we teach it inside the ActiveCampaign Academy.
When you want the better version of Engagement monitoring, with more info, less hassle, no over-active automations, and all your decision points taken care of, come on into the ActiveCampaign Academy, and I'll guide you through it all.
Above all, right now, do set up at least the basic engagement tagging automations, please, for me (and you, but also for me, so I don't have to be the one to tell you it ought to have been done six months ago…)
Learn more about our ActiveCampaign Academy membership
Fast, effective training & support for ActiveCampaign users everywhere
Your next step to use engagement tags to keep your ActiveCampaign emails out of spam
Once you have engagement tagging automations in place (and the extra automations we teach inside the ActiveCampaign Academy) be sure to use that information to stay aware of deliverability and engagement twin stars, and to take action to keep your emails out of the spam folder and in front of your contacts.
Emails that don't get delivered have zero chance to make sales or build your business
Your next step is to go grab our 5-step action plan to Get to the Inbox more reliably with ActiveCampaign.
Get help now to make your ActiveCampaign emails more effective and profitable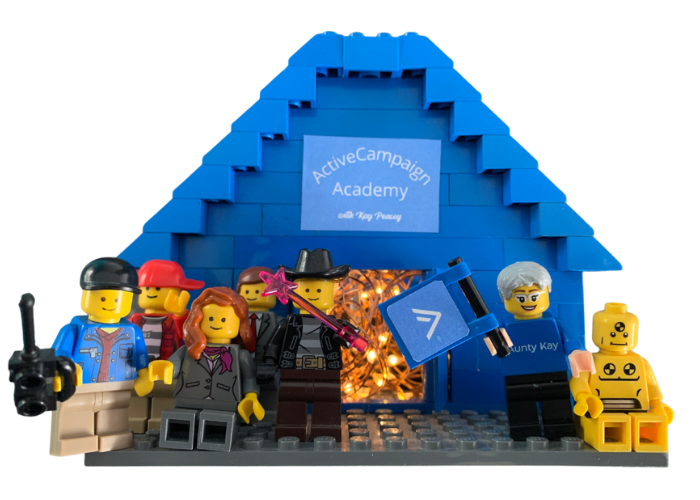 We have helped hundreds of ActiveCampaign users get their deliverability from zero to hero, with our super-focussed, fast and effective training, Better Engagement and Deliverability with ActiveCampaign.
You can get your hands on it today, inside the ActiveCampaign Academy membership, with instant access when you join for just one month of Essential ActiveCampaign.
It's a no-brainer for every ActiveCampaign user – emails that don't get delivered don't make sales – end of sermon.
See you in there… we add in a whole lot of other awesome courses, plus community and calls with Kay for any questions, chit chat and challenges too.
Learn more about our ActiveCampaign Academy membership
Fast, effective training & support for ActiveCampaign users everywhere