Gravity Forms is a WordPress forms plugin that integrates beautifully with ActiveCampaign.
ActiveCampaign users can quickly create nice-looking Gravity Form to use on their WordPress website, and have the data from form submissions sent back to ActiveCampaign seamlessly, with no extra tech needed.
And as Gravity Forms includes more advanced forms features (like conditional questions, easy hidden fields, and field validation) using Gravity Forms can solve a lot of use cases for ActiveCampaign users, where an ActiveCampaign Form can't get the job done.
Here at Slick Business, we use Gravity Forms throughout our marketing funnels, and for our ActiveCampaign Academy members too.
Read on to learn why Gravity Forms is still my favourite effective third party form service to use with ActiveCampaign.
Try ActiveCampaign now with a two week free trial
Follow these steps to use Gravity Forms with ActiveCampaign
Learn what can Gravity Forms do to help your business
Every small business needs to collect information on their website – contact form, enquiry form, newsletter signup, client onboarding, applications…
You can use Gravity Forms to build forms that collect information from your website users, and to send that information on to ActiveCampaign, and also to anywhere else you need to have it.
Making forms a positive experience for your visitors is a huge factor in increasing leads and conversions. To get people to fill out forms, they need to have the right style, flow, content, functionality and usability.
Visitors are far more likely to start, continue with, and submit a completed form when it is well constructed, and does what it needs to do fluently and without causing stress and delay to the person trying to fill it out.
Now I know what you're thinking, my ActiveCampaign user friend:
Why should you use a Gravity Form instead of an ActiveCampaign Form?
Briefly, because Gravity Forms can do a lot of stuff that ActiveCampaign Forms can't, from design features to user experience and data handling.
Often, an ActiveCampaign Form has everything you need. But in many use cases, we want to show user different things, or to do something different when a form is submitted – and for that, Gravity Froms can do a much better job.
And of course, there's the design side of things – ActiveCampaign Forms are notoriously limited on the design front (you can make ActiveCampaign Forms pretty, but they're not strong on that front) so if you want good looking forms you can style at website level, you will need a different form service, like Gravity Forms
Ten Things Gravity Forms can do that ActiveCampaign Forms can't
Multi-page forms
Saved progress for partial completion
Field entry validation
Conditional questions
Log of entries
Form sections
Prefill values with user, post or page data
Conditional data feeds to multiple places
Fully controllable design at site-wide level
Option values for select field types
That's just the ones I can think of off the top of my head, as I'm writing this. There are more, but to be fair, I often build really complicated multi-form setups with Gravity Forms and ActiveCampaign, and the average business user does not need to know about that level of data-geekery!
See how Gravity Forms works well with ActiveCampaign
Many form or opt-in modules that come built-in to page-builders, or embedded forms from a third-party tool, are not very flexible in how they connect with other tech tools like ActiveCampaign.
They are usually limited in where and how they will send the data, and in what they will do automatically when the form is submitted.
Gravity Forms is different, and that's why it's a stand-out forms service for ActiveCampaign users on WordPress websites.
The connection from Gravity Forms to ActiveCampaign is called a feed.
What you can do with a single ActiveCampaign feed from a Gravity Form:
Add multiple ActiveCampaign Tags
Create Tags dynamically from the form meta (like the form's title), or from any value or field name on the form
Map any form field to any contact field in your ActiveCampaign account
Add a Contact Note that can include any of the data collected by the form, and any form meta – like what page it was embedded on, or who the user was, or the date, or the direct link to the entry log
And here's the best part…
You can have multiple different ActiveCampaign feeds for any Gravity Form…
Gravity Forms offers multiple conditional ActiveCampaign feeds
You can set up as many feeds as you like, and decide which ActiveCampaign feed should run, based on the options and answers given on the gravity Form submission.
Conditional feeds are a huge win for businesses who want to streamline their forms.
Picture this… a single enquiry form, built with Gravity Forms, where the user can choose the option for what they need… And when the form submits, the ActiveCampaign feed adds the appropriate Tags, fills out the right set of fields, and sets in motion the right enquiry reponse, all on auto-pilot. Nice.
Is Gravity Forms worth the cost?
As a very experienced ActiveCampaign user, I say yes, Gravity Forms is well worth the annual cost in order to expand what you can do with forms, beyond the limits of the current features of ActiveCampaign forms. They almost always run a good offer at sale times – join our email list for tip-offs when this comes round.
If the price point is outside your budget for now, be sure to join our email list and free Accelerated ActiveCampaign training so that you can make the most of the ActiveCampaign Forms features you're already paying for instead.
Get our FREE Accelerated ActiveCampaign training now
Say goodbye to broken, unclear forms with catch-all questions, awkward interfaces and unreliable data passing. Say hello to inviting, easy to use, reliable, intuitive forms that give instant gratification and reward your site users for their time.
Incomplete form submission is a big drop-off point for many businesses, leading to lost leads, lower revenue, and wasted time and money. Gravity Forms will easily earn its keep in the time it saves you, let alone the increase in submission of high-quality data.
The Gravity Forms integrations are a highpoint for me. Of course, the ActiveCampaign feeds, but also Slack notifications, Zapier, WP Fusion, and many more integrations are all included with the various add-ons.
Get more help using Gravity Forms with ActiveCampaign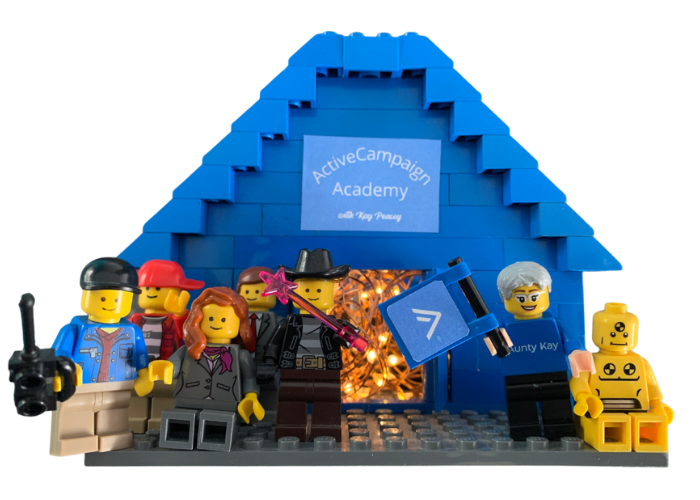 Plugins like Gravity Forms can be intimidating to use – a bit scary and overwhelming. Lots of people take one look at the back-end of Gravity Forms and give up, because they don't have the time or head-space to figure out how to make it do what they need it to, or how to get Gravity Forms to talk to ActiveCampaign properly.
And that makes us sad, because Gravity Forms and ActiveCampaign are a dream-team that are super-easy to use once you know where the settings are and which to choose.
We have created the ActiveCampaign Academy so that you can get the support you need, fast, to help you use the best tech in the shortest time, and get the best results from it with ActiveCampaign.
With courses, resources, live Office Hours calls with Kay Peacey, and a lovely supportive, searchable community, we have what you need to get Gravity Forms working beautifully alongside your ActiveCampaign account. Come on in…
Learn more about our ActiveCampaign Academy membership
Fast, effective training & support for ActiveCampaign users everywhere