When you want to send a totally personal email, you can do that with ActiveCampaign too – it's not just for Automation and Campaign emails.
One-to-one personal email sending is including with all ActiveCampaign plans, and it's perfect for connecting like humans, not robots – customers love a properly personal email.
In this blog, I'll show you where and how to send personal emails using ActiveCampaign on any plan, including Lite.
There are hidden features you didn't know existed – and I'll give you some brilliant tips on when and how to make good use of them.
Sending individual emails helps you connect better, and more personally using ActiveCampaign. This is the personal and human, but still fast and efficient, middle ground of email sending.
Try ActiveCampaign now with a two week free trial
Follow these steps to send one-to-one emails with ActiveCampaign:
Watch Kay Peacey show the different ways to send personal emails with ActiveCampaign
Learn how to send a personal email with ActiveCampaign
Go look at a contact edit screen
Look at the bottom for the grey bar, and click Send an email
Now you can write and send a totally personal email from you to the contact. Who knew!
Type a % and you get a drop-down of all the contact fields to merge into the text.
Signature and sender address are pulled from your ActiveCampaign account settings
But I didn't even know you could send a personal email in ActiveCampaign
I get it – and no one knows why the Send an Email feature is so well hidden – I was months into using ActiveCampaign before I accidentally found it!
Any email you send from here shows up on the ActiveCampaign Contact record, so this is a great way to have your team send those one to one emails without it being hidden away in the team inbox.
We dish out ActiveCampaign tips that make your working life better every day in the ActiveCampaign Academy for our members, so they don't have to wait months (or years!) to discover the features that will help them get it done.
Learn more about our ActiveCampaign Academy membership
Fast, effective training & support for ActiveCampaign users everywhere
Discover ActiveCampaign Saved Responses and how to use them
This is the most gold-dust personal email feature in ActiveCampaign, and it's weird how well ActiveCampaign hides it.
Saved Responses are like canned emails, or templates, in a "here's one I made earlier" style.
You can use custom field values in them, and they send like a personal email from you to a contact.
ActiveCampaign drops in your pre-prepared text, then you can edit any part to make it totally personal. Nifty!
How to create a Saved Response email in ActiveCampaign
To make a Saved Response, head to the settings cog in at the bottom of your left sidebar and look for Saved responses.
You can sort them into categories and everything!
How to send a Saved Response to a contact in ActiveCampaign
On the very bottom of the contact edit screen click Send an email
Click the little grey page icon that says Saved Responses on hover, and
Select the Saved Response you want to send
Edit as needed, then hit send.
Boom – one totally personal yet speedy and thoughtful email sent to that specific ActiveCampaign contact only.
You can also send Saved Responses from the ActiveCampaign app for mobile devices – look for it on contact records in the app for sending on the go at the beach or on the train.
I keep a saved response for user logins, links to stuff I mention a lot, calendar scheduling links, and other stuff people ask for all the time, and need to be sent on request.
It's so fast to select the Saved Response, edit (use the speech to text feature on your phone for extra speed) and send…
It's a speedy personal answer that your customers will love.
Win win win! Happy saved responding!
When you're ready to up your ActiveCampaign game, start here with our free Accelerated ActiveCampaign training course, which covers brilliant but well hidden easy wins – like Saved Responses!
Get our FREE Accelerated ActiveCampaign training now
Send personal ActiveCampaign emails right from your inbox
I bet you'd love to be able to send an ActiveCampaign email from the inbox where you deal with emails. Well hooray! You can!
Integration direct with your business email inbox is a little-known wonder of ActiveCampaign.
Discover the Chrome extension to send ActiveCampaign emails from your Gmail inbox
The Chrome ActiveCampaign extension brings ActiveCampaign contact info into your Gmail inbox in a browser sidebar. It's a massive speed-boost for workflows.
Fields, tags, automations, deals, notes, contact activity…. all of it – yes – wow!
You can use ActiveCampaign Saved Responses from here too when you send or reply, even if that contact isn't in ActiveCampaign – double wow, and a big time-saver for inbox handling.
I moved our Slick Business email service into G-Suite just for this feature. Boom.
Try the Outlook add-on for sending ActiveCampaign emails
There's a very similar set of features in the ActiveCampaign add-in for Outlook users – go exploring and see what time-saving features you find to play with.
Kay Peacey – on a mission to help you find and use the very best bits of ActiveCampaign.
Spread the word!
Oh, and I'm in the ActiveCampaign Academy every day helping members put the human touch in their business automation. Come on in and find out how to wow your customers without burning out
Learn more about our ActiveCampaign Academy membership
Fast, effective training & support for ActiveCampaign users everywhere
Get Kay's expert tips for sending personal emails with ActiveCampaign
Use Saved Responses as a starting point for consistency and time-saving on one-to-one emails
Edit to add something truly personal or of-the-moment so they know it's not automated
Include contact field values by entering % and select from the dropdown
Sender email address is the email of the ActiveCampaign user
The signature is in the ActiveCampaign user's account settings
Categories of Saved Responses make it easy to find the one you need
Create Saved Responses for personal emails you keep needing to type and send
Check subject line before sending from Gmail or Outlook
Create Saved Responses carefully with clean text or the formatting will be wonky
Do our Accelerated ActiveCampaign free training for a step by step walkthrough
Our awesome FREE Accelerated ActiveCampaign course will help you unleash the full potential of ActiveCampaign:
Get our FREE Accelerated ActiveCampaign training now
Get more help with sending personal and 1:1 emails with ActiveCampaign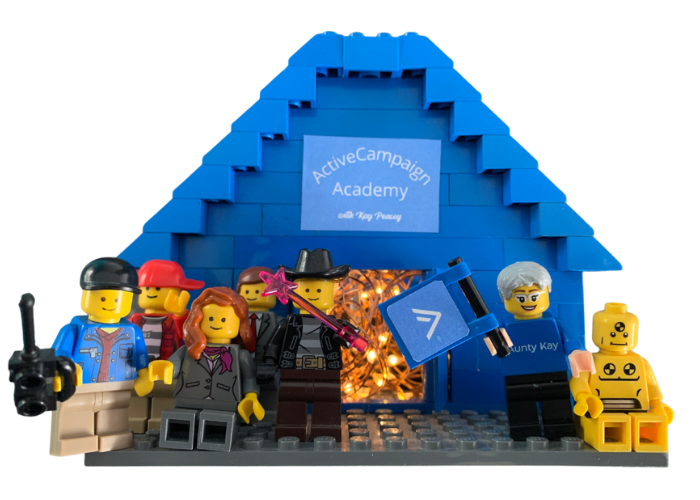 Sending individual one-to-one emails from ActiveCampaign without having to start from scratch every time means you can connect personally with people much faster and more often.
This is where ActiveCampaign truly excels – Automate the repetitive, but keep the human touch
We don't buy from robots – we buy from people, especially people we feel connected with, and who make us feel noticed.
In the ActiveCampaign Academy we will show you the fastest, best ways for your specific business to use personal emails to make that all-important human connection, without costing you a ton of time.
Learn more about our ActiveCampaign Academy membership
Fast, effective training & support for ActiveCampaign users everywhere