Sending a Campaign email using ActiveCampaign (not an Automation email – they're different) is like putting a stack of party invites into the postal system all in one go.
They are all dispatched to all recipients at the same time.
They all get delivered to ActiveCampaign contacts at more or less the same time.
They all get opened and read more or less within the same time-frame.
Try ActiveCampaign now with a two week free trial
Watch this video to learn about Campaign emails for ActiveCampaign in 5 mins
Learn what Campaigns emails are in ActiveCampaign
Campaign emails are like blasting your car-horn.
Everyone nearby gets the same noise delivered to their ears, all at the same time.
You compose your email, define the chunk of contacts you want to send it to, and pick when to send it.
ActiveCampaign sends the Campaign email to that whole chunk of contacts at the same time.
One big blast of the horn, heard by everyone, at the same time.
That's what a Campaign email is for, in ActiveCampaign
Handy for newsletters, or telling everyone who needs to know that your sale starts tomorrow.
Know when to use a Campaign email instead of an automation email in ActiveCampaign
So how do you know if it's a Campaign email or an Automation email that you should be creating in ActiveCampaign?
Here's the rule of thumb:
If you want to send an email to lots of people at the same time – it's a Campaign email
If you want to send to each person when it's right for them – it's an Automation email
This is the only real difference between a Campaign email and an Automation email in ActiveCampaign.
It's not quite as black and white as that in every single case, but most times, applying this rule of thumb will make your ActiveCampaign email-sending a whole lot easier.
Think of it like this…. when you send a Campaign email, it's like you're launching a fleet of paper aeroplanes all at once.
Understand how Segments work with Campaign emails in ActiveCampaign
ActiveCampaign sends the Campaign email to a whole chunk of contacts at the same time.
This next bit is really important…
The chunk of people you send to can be changed for each Campaign email you send with ActiveCampaign.
In ActiveCampaign, this is done with the ​​Segments feature.
A Segment is a defined chunk of contacts
A Segment allows you to define the right chunk of contacts for any Campaign send, and tell ActiveCampaign to send your Campaign to just those guys.
For each Campaign email, you simply select or set up the chunk (aka Segment) you want to send the email to.
And yes, that means (ta daaaa!) a Campaign email does not need to be sent to a whole List of contacts.
Segments are oh-so-useful and I've got a fabulous step-by-step in my free Accelerated ActiveCampaign Course that shows you exactly how to create a Segment and use it when sending a Campaign email with ActiveCampaign.
Get our FREE Accelerated ActiveCampaign training now
How to not get confused by other uses of "campaign"
Sometimes when people talk about email marketing they use the word 'campaign' to mean a series of emails sent out as an automated series.
(Hello previous users of certain other platforms, I'm looking right at you…)
And all sorts of paid-traffic tech like Facebook ads, or Google analytics, and the smart people who know how to work those tools, use the word 'campaign' in a whole different way.
But in ActiveCampaign, most of the time, a Campaign is a single email, blasted out, to your chosen chunk of contacts, all at the same time.
Just so you know, confusingly, ActiveCampaign sometimes refers to automation emails as campaigns – watch out for this in Reports and Templates especially.
For ease, when we in Slick Business refer to a Campaign, we always mean a single Campaign email sent out, in one go, to a selected chunk (a Segment) of contacts.
Learn more about our ActiveCampaign Academy membership
Fast, effective training & support for ActiveCampaign users everywhere
Get Help with how to use Campaign emails in ActiveCampaign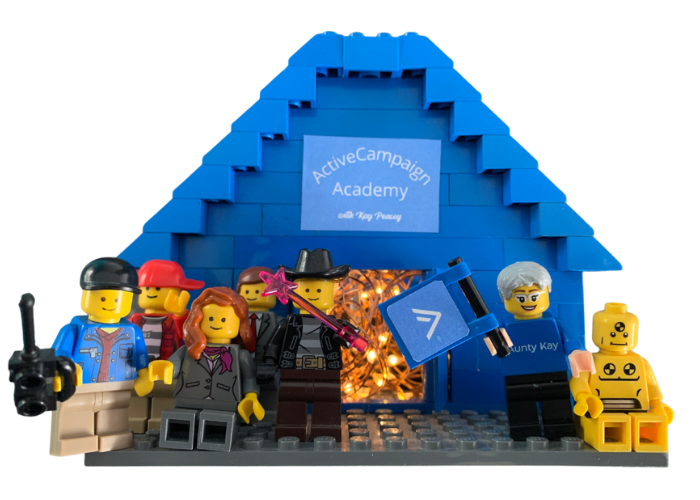 Now that you know what they're for, you're feeling ready to level-up your Campaign email sending…
Knowing when and how to send a Campaign email is a core part of getting the value you expect from ActiveCampaign.
But to be honest, the stuff we've talked over in this blog isn't even scratching the surface of the cool and crafty stuff you can do with email-sending in ActiveCampaign.
We help our members inside the ActiveCampaign Academy (favourite place to be for Kay Peacey) with exactly when and how to use a campaign email vs an automation email in ActiveCampaign.
Come on in to the best and friendliest marketing tech Academy there is – yes, it's our very own ActiveCampaign Academy!
You will be amazed by yourself and your emerging ninja skills when you join, so be kind to yourself and come on in to do ActiveCampaign the easy way.
Learn more about our ActiveCampaign Academy membership
Fast, effective training & support for ActiveCampaign users everywhere