Link-click actions are the best ActiveCampaign email feature you've never heard of and don't know how to find or use, that will wow your customers, save you time, and make you look like a magician.
If you build ActiveCampaign emails, then of course you want to hear more about this… so read on and I'll tell you how to turn a simple link click in an ActiveCampaign email into the beginning of a beautifully simple and fully automated series of events.
Adding or removing tags, and starting or ending automations with an ActiveCampaign email link click is super-easy once you know how.
NOTE* as of mid 2022 link actions are available in emails created using the classic or standard ActiveCampaign email builder only – they're not available on the NEW beta email builder at time of writing
Try ActiveCampaign now with a two week free trial
Follow these steps to automate actions from link clicks in ActiveCampaign emails:
Watch ActiveCampaign expert Kay Peacey explain email link-action super-powers
Discover how to track and use link clicks in ActiveCampaign emails
Link tracking and link actions are the easiest but most powerful features in ActiveCampaign emails. Let's start with what those things are…
What is Link Tracking in ActiveCampaign emails?
Every ActiveCampaign email (that has a link in it!) has a setting to turn link tracking On or Off.
When link tracking is turned on, ActiveCampaign sends the email link click via a special route that tracks which contact was sent that email.
And then ActiveCampaign records that email link click on the contact record. Nice.
What are Link Actions in ActiveCampaign emails?
A link action can be set for each unique link in any* ActiveCampaign email that has link tracking turned on.
Link actions can add or remove tags, start or end automations, and subscribe or unsubscribe from lists.
Right now you're probably thinking "how the heck did I never hear about this ActiveCampaign feature?!" You're not alone. And at Slick Business we are on a mission to un-hide all the greatest features of ActiveCampaign for users like you.
Start here with our free Accelerated ActiveCampaign training to discover more awesome ActiveCampaign goodies you didn't evne know were there.
Get our FREE Accelerated ActiveCampaign training now
Get set up to use a tracked link click action in ActiveCampaign
To use this awesome and easy feature you will need:
A url link to use in your email, that leads to a website page or asset
An automation or campaign email* in ActiveCampaign with Link Tracking turned on
How to choose a url to use with a tracked link click action in ActiveCampaign
The url link can be on some text, on a button, behind an image – anywhere you can get a link in an ActiveCampaign email.
The url could lead to anywhere at all – it could even go to a completely made up or broken url… but that would make you look pretty silly…
My advice is to choose something that makes sense for the person clicking the link. Even if it's just a page on your site that says:
"Hooray, you just clicked a link in my ActiveCampaign email! Thanks dude!"
Visit our FREE Facebook Group for ActiveCampaign users now
The safe place to freak out and geek out about ActiveCampaign
Add a Link Click Action in your ActiveCampaign email
In the options for each unique url in your ActiveCampaign email (hint – to find the link options, look for a cog icon where the link goes) you will find the settings to add a link action (or even more than one… how exciting!)
The action you choose will happen for the contact when ActiveCampaign tracks them clicking the link.
What actions are available for link clicks in ActiveCampaign emails?
Add or remove tags
Subscribe or unsubscribe from lists
Add to or end automations
How to select your link action for this email link in ActiveCampaign
Once you've located the settings, look for "When a contact clicks this link" and an option to "Add an Action"
Choose from the tag or automation options, then select the tag or automation you need.
Then save your email.
Yes, it's that simple.
Try three easy ways to use link actions in your ActiveCampaign emails
Tracked link click actions are the answer to many ActiveCampaign problems and use-cases. Here are three of the most common real life questions that are answered with a link action in your ActiveCampaign emails.
How do I tag a contact when they click this link in any of myActiveCampaign emails?
The Click-Monitor Tag – use case for an ActiveCampaign email link action

Use a link action to add a tag to contacts when they click a specific link in any of a set of ActiveCampaign emails
Create a tag CLICKED: this-link
Set this link action in each email where that link is used
Link-Click Action = Add Tags > CLICKED: this-link
So easy – the tag gets added when they click that link in any of those emails.
Can I start an automation when they click a button in my ActiveCampaign email?
The Go Button – use case for an ActiveCampaign email link action

Use a link action to kick off any automation for the contact when they click a button in your ActiveCampaign email.
Create your automation and make sure it's set to Active
Pick a url to send them to when they click the button – maybe a page that says "OK, we've got you covered"
Create your email button with words like "start your week of daily tips emails now"
In the settings for the button, click the cog beside the link
Link-Click Action = Add to Automation > the automation you want to start
OMG so simple – right? Automation magic, right there under your nose, but well hidden in the ActiveCampaign email settings.
How do stop just this set of ActiveCampaign emails without them having to unsubscribe?
The Stop Button – use case for an ActiveCampaign email link action

Use a link action to allow contacts to stop a series of ActiveCampaign automation emails, so they don't need to hit the unsubscribe
Make a page on your site with words like "I've put a stop on that for you"
Use this link in emails for your long-ish automation email series
Put the link with words like "Want to stop this topic? Click here to bale out on this one but stay subscribed"
Link-Click Action = End Automation > the automation they're in
What?! Yup – it's that easy. They click the link, land on the page that says OK dude we've stopped that for you, and ActiveCampaign ends the automation for that contact right away. Boom.
Learn easy segmentation for contacts using ActiveCampaign email link clicks
Can I segment my contacts based on something they clicked in an ActiveCampaign email?
Yes – tagging contacts based on what they click in your ActiveCampaign emails is a huge win for segmentation (aka knowing somethign important about your contacts)
Here's how to do it using a link action with a tag:
Ask them a direct question, and give them a reason to let you know this about them. Like this:
I'd love to know if you're a VA… Click here to tell me YES you're a VA, and I'll show you my 10 best tips for VAs to get highly paid
Add the tag using the ActiveCampaign email link action.
Can I use ActiveCampaign email clicks to track what contacts are interested in?
Yes – stealth segmentation involves sharing a juicy link that will only appeal to them if they're a fit.
Pro Tip: The trick here is to make the words you use, and hence the link-click, actively unappealing to the contacts you don't want to mark as haiving this interest.
Add your INTEREST: this thing tag using the link-click action, or add them to an automation that populates a custom field.
Add a quick link-click survey to your ActiveCampaign email
This is a huge use-case for link actions in ActiveCampaign emails – here's the enormously common question:
How do I run a short survey in an ActiveCampaign email?
Lots of ActiveCampaign users want to run surveys, but don't want to use, or pay for, a separate service like SurveyMonkey or TypeForm
The good news is you don't need to – a simple quiz or survey can be done using core ActiveCampaign features in an email.
The answer, in case you've haven't twigged yet, is to use the link action feature (surprise!).
Follow these easy steps to create a quick quiz in your ActiveCampaign email
Create a page on your site for each option or answer – these are the urls you will need
You can use a single url if you need to – hop into our ActiveCampaign Academy for the details on that method
Create a tag for each answer or option
For each option, make it a clickable link, leading to the page you set up
Add the suitable tag to each answer/link combi using the link-click action
Boom – almost instant quiz or survey in your ActiveCampaign email, right there, with no need to pay more for a survey tool.
Learn more about our ActiveCampaign Academy membership
Fast, effective training & support for ActiveCampaign users everywhere
Read 5 best-practice tips for link actions in ActiveCampaign emails
Create any tags first, and set any automations to active.
This makes sure they appear on the dropdown selector and you are less likely to have a typo-tastrophe.
Keep a record of link actions used in your emails.
Be scrupulous on this – you'll regret it if you don't – join the ActiveCampaign Academy for help with how to do that the fast and easy way.
It doesn't really matter what the link url is – ActiveCampaign doesn't care about that part.
But it helps you not look silly if the url is a good fit with the link-click action, and with the words you've used in the email.
Test test test – always test all the things – how to test well and thoroughly is a big topic in our ActiveCampaign Academy
You need link tracking toggled On in the settings of the email for any of this to work
Get more help to track and use link clicks in ActiveCampaign emails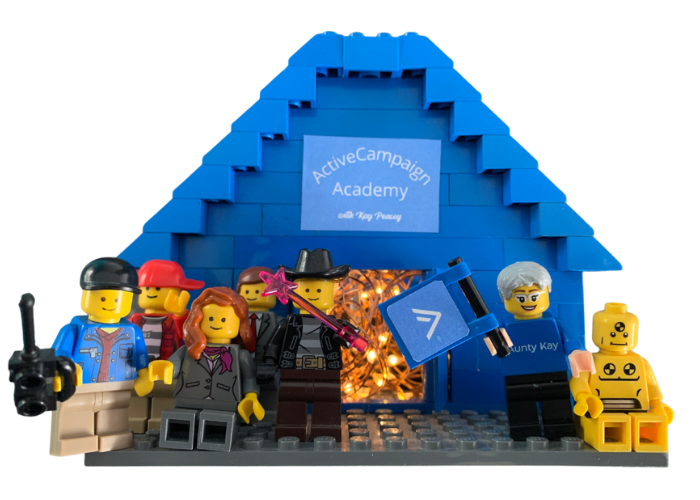 Now you know what link-click actions are you can use them to learn more about your contacts, and use email surveys and segmentation to grow your business.
You'll have a ton of questions about exactly how to use link actions strategically, and how to get them working in ActiveCampaign. Our ActiveCampaign Academy members get access to Kay Peacey and the team super-fast for advice and all the juicy details, so come on in when you're ready to leverage the super-powers of tracking ActiveCampaign email link clicks.
We're expert in helping you get to the fastest, easiest way to build whatever you need or dream of using ActiveCampaign, so youi can get on with doing more of the fun stuff. See you in there 🙂
Learn more about our ActiveCampaign Academy membership
Fast, effective training & support for ActiveCampaign users everywhere