Curious about quizzes as lead magnets? You should be.
A well thought out quiz with follow-up in ActiveCampaign is a gold-mine for great quality leads that convert to buyers like a dream. You want that, obviously!
But what does a great quiz look like?
How to you figure out which tech to use to build your quiz, and where do you even start with quiz strategy?
And who should you go for advice on how to hook up all the tech to make the quiz funnel magic happen on auto-pilot to bring in those great quality leads for your business?
If you have questions about building quiz funnels, you're in the right place, for this blog with our special guest, Kylie Lang – aka the Quiz Queen.
Follow these steps to create a quiz funnel for ActiveCampaign
Listen as expert Kylie Lang talks quiz funnels with Kay Peacey – includes Q&A
Try ActiveCampaign now with a two week free trial
Learn why a quiz makes a great lead magnet to use with ActiveCampaign
Q: Why bother making a quiz when a pdf lead magnet is faster and easier?
A: Because a quiz delivers rich information you can use to convert that lead to a buyer much more reliably
Kylie Lang (world leading quiz funnel expert) knows how to extract a huge amount of value from even a short 8-question quiz.
With a typical pdf lead magnet, you learn one thing – that the contact is interested in that topic.
On the other hand, with a quiz, you can backwards engineer the questions to show you exactly what pain points they have, how much they have to spend, how big their business is, and what will motivate them to buy.
Watch the video above to hear Kylie laying out all the great info you get from a quiz lead, when she joined us as a live guest in our Facebook group for ActiveCampaign users – it's truly epic!
Visit our FREE Facebook Group for ActiveCampaign users now
The safe place to freak out and geek out about ActiveCampaign
Hear which are the best quiz tools to use with ActiveCampaign
There are two quiz tools that are the best and easiest to use with ActiveCampaign. Both are dedicated to creating and sharing high converting quizzes to grow your list with high quality leads.
Two quiz platforms we recommend for using with ActiveCampaign
Interact is a wonderful quiz builder with easy social sharing and an intuitive user experience
ScoreApp is a UK based quiz builder with a small dedicated team and brilliant features for the price
For the ActiveCampaign Academy course Quiz Funnel Integration and Automation we've used ScoreApp as the demo tech, but Interact is similar and equally great for ActiveCampaign integration.
Kylie and I are both huge fans of these quiz tools, which are not only best in class, but also play nicely with ActiveCampaign.
Discover how to integrate ActiveCampaign with quiz tech
Connecting quiz tools to ActiveCampaign can look scary, but with the right tech it's easy, and you only need to set it up one time.
Look for settings to choose which list to add contacts to, and then use custom fields and tags to bring that juicy information about the lead into ActiveCampaign.
Using tags and custom fields gives you lots of ways to Segment contacts and personalise emails you send, so that your follow up will have a much bigger impact than if you send every lead the exact same general emails.
Three things to integrate from your quiz tech to ActiveCampaign
Use the name and email to add the contact to a List
Map answers, scores or ratings to custom contact fields
Add tags to show the quiz was completed, and what you learned about their interests or needs
If you're not familiar yet with how to create and use Lists, Tags and Custom Fields in ActiveCampaign, use our totally free and fast Accelerated ActiveCampaign training to get up to speed – it's guaranteed to get you started easily in ActiveCampaign.
Get our FREE Accelerated ActiveCampaign training now
Know what needs to happen to convert a quiz lead to a buyer
Follow-up is really important when using a quiz as a lead magnet.
The most common mistake businesses make with quizzes is missing the follow-up stage – that's where the magic happens.
Each lead from the quiz comes with a lot of information so you know exactly what they need right now. So you can use automation in ActiveCampaign to nurture that cold lead to get to know you, like you and trust you really fast.
Quiz leads are top of funnel – they often arrive knowing very little or nothing about you and your business.
Create an automation in ActiveCampaign that sends emails to match with their problems and needs – it's a super-effective conversion route for cold leads because it talks directly to them on what matters most.
We have a step by step training in the ActiveCampaign Academy with all the steps to integrate leads to ActiveCampaign and make the follow-up automation to warm them up and convert them to buyers quickly.
Learn more about our ActiveCampaign Academy membership
Fast, effective training & support for ActiveCampaign users everywhere
Get expert help to create a high converting quiz with Kylie Lang
Kylie Lang is a world leading expert in creating high converting quizzes. She's a great teacher, and knows how to support you to dig into what your customers most want and need, and backwards engineer your quiz to bring in the very best leads.
When we build a quiz for ActiveCampaign users, we will be following Kylie's training for sure, so that we know our time will be well spent, and the result will be a tempting quiz that fun and effective.
You can find Kylie's quiz funnel training and services here – choose from training that you complete at your own pace, a done-with you service, or the full funnel built out for you.
Grab instant access to quiz funnel training for ActiveCampaign now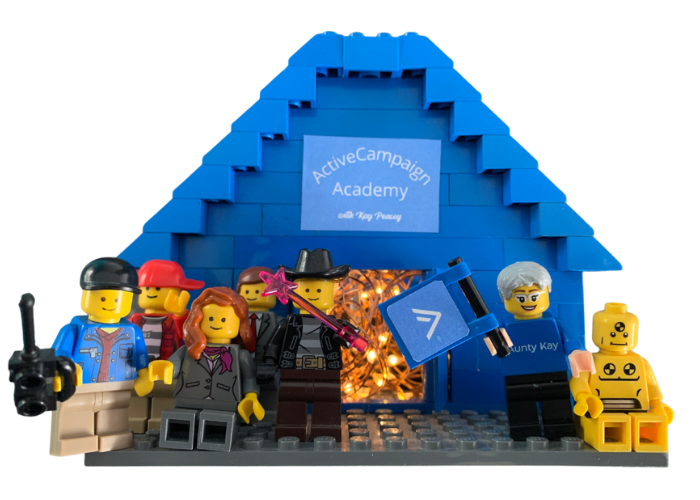 In the ActiveCampaign Academy we have a full training with step by step guidance to create your quiz funnel using ActiveCampaign.
Kylie Lang joins us as guest tutor to show you round the included sample quiz, and the quiz tech it's created in. Then Kay takes you through the exact steps to build follow-up in ActiveCampaign, complete with automation to import the emails in one easy move
So come on in to the ActiveCampaign Academy, and you'll have Kay Peacey and the Slick Business team, and all your lovely fellow members, to guide you every step of the way to fabulousness with ActiveCampaign.
Learn more about our ActiveCampaign Academy membership
Fast, effective training & support for ActiveCampaign users everywhere