ActiveCampaign runs slow sometimes (like all big super-capable tech tools) and that can be frustrating.
Because I work in ActiveCampaign every single day, I know how to work faster with it, even when ActiveCampaign is loading slowly.
I know you want to do ActiveCampaign the easy way too, so this blog shares some of my best moves on how to save time in ActiveCampaign.
Try ActiveCampaign now with a two week free trial
Follow these steps to save time in ActiveCampaign:
Get our FREE Accelerated ActiveCampaign training now
Learn to use brand colours in ActiveCampaign emails
Using your brand colours hex codes is an easy win for creating on-brand ActiveCampaign emails.
There are two different Email Designers in ActiveCampaign – the colour settings are in different places depending on which you're using for any specific email.
Classic Designer is the older of the two email builders in ActiveCampaign – it has a grey right sidebar, and may not be available in accounts created after October 2022. For more on updates to the ActiveCampaign platform visit our blog here.
The newer of the two ActiveCampaign builders is called the Email Designer – there's a light coloured right sidebar, and it's available in all ActiveCampaign accounts as the default builder for new emails.
How to save your brand colours in ActiveCampaign Email Designer emails
Right now (Oct 2022), hex colours can't be saved in the new ActiveCampaign Email Designer.  So here's your move…
Save your hex codes as keyboard shortcuts, or a snippet or text expander
Use the snippet or shortcut to quickly set the colourfor the email object
Saved colours are on their way for the new Email Designer, but this will keep you moving fast in the meantime.
We use TextExpander for this – the shared snippets folders make it easy and fast to use across our Slick Business team.
For more speedy tips and access to our world-class training for the new ActiveCampaign Email Designer join the ActiveCampaign Academy. We're there to make it as easy and fast as possible to use this fabulous modern email builder to wow your contacts.
Visit our FREE Facebook Group for ActiveCampaign users now
The safe place to freak out and geek out about ActiveCampaign
How to save your brand colours in ActiveCampaign Classic Designer emails
Have your brand colour hex codes handy, including neutrals and shades of grey
Open any ActiveCampaign Classic email in design view
Select any object that has a colour setting available, and click in the colour block
Paste in a # hex code
That colour will now show up in RECENT colours in the colour picker
Click on the colour in RECENTS and hit the + button just below and to the right, where it says SAVED.
Your brand colour will now be available to you as a SAVED colour in the ActiveCampaign email builder.
To apply the colour to selected text, click the More > option.
In the ActiveCampaign Academy we have a whole training course on the Classic Designer for emails, stacked with more tips and workflows to get you building better faster emails in ActiveCampaign.
Learn more about our ActiveCampaign Academy membership
Fast, effective training & support for ActiveCampaign users everywhere
Use Labels to find ActiveCampaign automations, campaigns and forms quickly
This ActiveCampaign time-saving tip is great if you're fed up of paging through forms, automations, and campaigns or using the search bar and waiting for it to load.
You can filter by label in one single click.
Three places to use Labels in ActiveCampaign to organise and find things easily
The reason you may not have noticed them is that the "Add Label" option doesn't always appear unless you have an item selected, using a tick in the little box to the left of the item name.
Select a form, campaign or automation, hit the "Add Label" button, then create a label.
You can even choose from a nice selection of colours for easy-on-the-eye label-spotting.
It gets easier from there, with "add or remove label" appearing when you select, and then choosing from your list of labels.
The best bit now is being able to filter automations, campaigns and forms by label.
Tidy up your ActiveCampaign account to get more done, faster
A clean and tidy ActiveCampaign account is a ton easier and faster to work in than a messy one.
But doing the tidying up means deleting an automation, form, email, or list, and that can be scary and a bit risky.
Lots of times, you'll want to retire some thing or process, but hang on to the data it generated, or keep as an example of what to do (or what not to do).
Here are two sneaky moves for ActiveCampaign cleanup, so you can keep stuff in your account as archive without it cluttering the place up, and so that you, or anyone else working in your account, will know it's an archive thing.
Two top tips to quickly cleanup your ActiveCampaign
Putting zz on the front of the name of archive items moves them to the end of alphabetical listings
For forms and automations you want to hang on to but not use, add a red label called archive
Top Tip: If an automation is not in use, set it to inactive (learned by me, the hard way, so you don't have to!)
There's a lot of cleaning up and untangling needed in most ActiveCampaign accounts – not your fault – no-one tells you how to keep it tidy when you get started.
We provide support and training to safely and quickly untangle messy ActiveCampaign accounts to all our members in the ActiveCampaign Academy.
Learn more about our ActiveCampaign Academy membership
Fast, effective training & support for ActiveCampaign users everywhere
Discover ActiveCampaign contact notes to reduce wasted time
Welcome to a massively underused ActiveCampaign feature – the contact note!
A lot of time is wasted in teams using ActiveCampaign just trying to figure out what happened with a contact.
The huge ActiveCampaign time-saver here is Contact Notes.
ActiveCampaign Contact Notes can be used to keep a running record of what happens to contacts, that anyone can read back, like a diary.
Four tips to save time in ActiveCampaign with Contact Notes
Look at the very bottom of the contact screen for the Notes tab.
You can add a note manually by clicking "Add a Contact Note" on the floaty grey bar. Great for when you've done something manually with a contact for obscure reasons.
Notes get the time and date, and the ActiveCampaign user who created the note, added by ActiveCampaign.
Notes show up in contact activity feed, and if you include a link, the link is clickable.
For faster ActiveCampaign, start by knowing where Notes are, and getting your team to start using them more.
Navigate ActiveCampaign faster using browser bookmarks
Here's the easiest time-saving tip for ActiveCampaign: use your browser "bookmarks" feature to save the urls of the ActiveCampaign pages you visit most.
This applies especially to the ones that take more clicks than they should to get to (eg. tags manager, forms page and fields manager).
When you're working on a process, get a folder on your bookmarks bar and save the automation, email design, and form urls.
This alone will save you hours of clicking and waiting and clicking and waiting, slowly losing your marbles and going grey while the ActiveCampaign server wheels turn in slo-mo.
Pro Tip: You can also bookmark the url for searches, segments, reports – anything you visit regularly.
There are also services that let you share bookmark folders with team members, which is very handy for collaborating.
Visit our FREE Facebook Group for ActiveCampaign users now
The safe place to freak out and geek out about ActiveCampaign
Get your ActiveCampaign work done faster and easier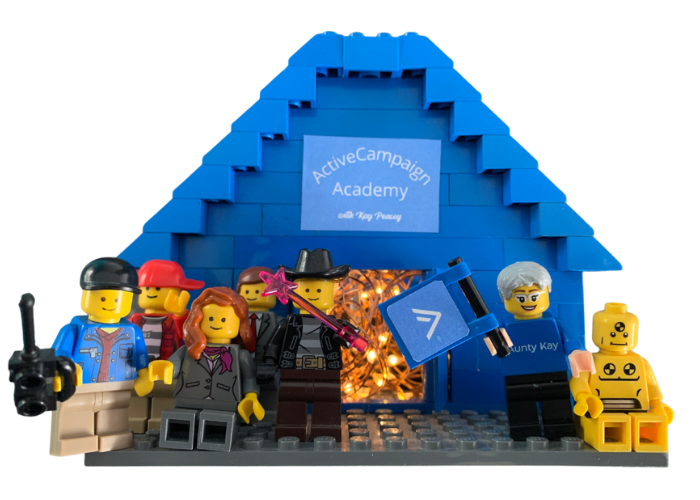 Working with ActiveCampaign can be slow at times – in the ActiveCampaign Academy we help every user get their work done faster, better and right first time, saving hours of frustrated waiting.
And that's without even taking into account that our members don't need to wait hours or days for the in-consistent service from ActiveCampaign support – in the Academy you get instant access to our private member support community, where we beat the support desk hands down on speed and reliability.
It's the very best pain-relief for ActiveCampaign users there is, and you can get instant access, today – come join me in the ActiveCampaign happy-lands where all the fancy stuff is unlocked to help you grow your business.
Learn more about our ActiveCampaign Academy membership
Fast, effective training & support for ActiveCampaign users everywhere