How should Lists be used in ActiveCampaign? Great question – and you definitely need an expert to answer this one.
In this blog we go over the most important things you really need to know about how Lists are used in ActiveCampaign.
Lots of ActiveCampaign users get into trouble using Lists in ways that don't work well – and it's not your fault, because it's not obvious when you start using ActiveCampaign. Especially if you're migrating from another email platform.
Using too many Lists is the biggest thing that goes wrong for the many ActiveCampaign users, and makes their life a lot harder.
Let me (world leading ActiveCampaign expert, Kay Peacey) rescue you from this super-common easy-to-fall-into trap, and help you do ActiveCampaign Lists the easy way instead, so you can get bettter value from ActiveCampaign and your contacts.
Follow these steps to use ActiveCampaign Lists the right way
Try ActiveCampaign now with a two week free trial
What you most need to know about ActiveCampaign Lists – with Kay Peacey
Join my FREE Facebook Group for ActiveCampaign users now
The safe place to freak out and geek out about ActiveCampaign
Learn how many ActiveCampaign Lists you should have
You can have as many Lists as you like in ActiveCampaign. But you will have an easier time working in ActiveCampaign if you have no more than five Lists.
I know this, because I've worked daily in ActiveCampaign accounts for over 6 years, and I've spent a lot of that time cleaning up the mess that happens when more than five Lists are in the account.
Lists seem like they would be great for segmenting groups of contacts, like people signed up for a webinar, or cought a product, so that you can send them Campaign emails.
But in ActiveCampaign, you should definitely use Tags and Custom Fields for segmenting contacts and deciding who to send emails to.
In my in an ideal ActiveCampaign account, I would have only one list – two is okay, three not bad, four is pushing your luck…
More than five Lists is really bad idea – trust me on this, and go learn how to use tags and custom fields and segments – you can thank me later.
Know what the problem is with ActiveCampaign Lists
I'm one of the people who picks up the pieces when an ActiveCampaign account goes rogue and you call for help.
And it's almost always because lots of Lists have been used to "know stuff" about contacts. Like if they signed up for this or that freebie.
Using lots of Lists in ActiveCampaign means that in the end, people who want their emails aren't getting them, and people who don't want their emails are still getting them.
Messing up ActiveCampaign email sending means lost sales, complaints, unsubscribes and (the horror) spam reports.
Lots of lists are not a good thing in ActiveCampaign. You should use Tags and Custom Fields to create Segments – not Lists
So what are ActiveCampaign Lists are actually for then?
Get our FREE Accelerated ActiveCampaign training now
Discover what an ActiveCampaign list is really for
The main job of an ActiveCampaign List is to let everyonne involved know whether it's OK, or not OK, to send a contact a campaign or automation email.
A contact who is actively subscribed to at least one List can be sent emails.
A contact who is unsubscribed from all Lists cannot be sent emails.
On a list = can be sent emails.
Not on any list = cannot be sent emails.
The only thing a List really tells you is whether ActiveCampaign, and you (the account owner), and the contact, are all happy to keep sending and receiving emails.

Read that sentence at least three times, and keep it in mind.
Note – We're talking about bulk-email-sending here – your Campaign and Automation emails. Personal one-to-one emails do not rely on list subscribes to be sent either direct by you, or using ActiveCampaign personal sending features.)
Disclaimer – There are a couple of very obscure exceptions to this rule, but let's not muddy the waters with weird stuff you don't need to know right this minute
Understand that you are not in control of Lists in ActiveCampaign
Here are the most important things you need to know about contacts and lists in ActiveCampaign:
Three things you need to know about ActiveCampaign contacts and lists
Contacts can, and do, take themselves off lists by hitting the unsubscribe button in an email
And if they unsubscribe from an automation email they get unsubscribed from ALL your lists in most cases (I know – take a moment – you're not the first to get a shock on this point)
Contact email addresses can bounce as undeliverable, and then ActiveCampaign takes them off the list
This means you are not in control of whether a contact is on a List or not.
Yes that's right. You're not in charge of whether a contact is on an ActiveCampaign List – and that's why you should not use Lists to keep track of stuff and decide who to email about a webinar, a product, or whatever.
In ActiveCampaign Lists are not reliable for keeping track of things you want to know about your contacts.
I recommend using tags and custom fields for that sort of thing, instead of lists.
Know what to do if you have a lot of Lists in ActiveCampaign
Once you've realised you need to lose some Lists in ActiveCampaign, your challenge is how to reduce them without breaking anything.
Three things to keep in mind when removing ActiveCampaign Lists
Contacts need to be moved safely to a main list without accidentally resubscribing people who don't want emails or unsubscribing people who do want emails. Yikes.
You have to be super careful about deleting unused lists, because that can lead to losing huge amounts of campaign email sending data.
Whatever you had intended to track with a list, will need to be moved to a tag or custom field
The only thing a List should control is whether ActiveCampaign, and you (the ActiveCampaign account owner), and the contact-person, are all happy to keep sending and receiving emails.
Work towards getting your ActiveCampaign account down to maximum five lists.
Get help with how to use Lists in ActiveCampaign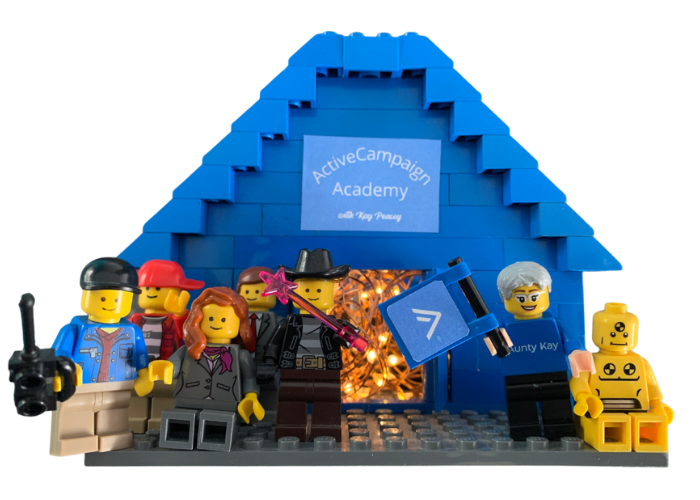 The most common thing new members of my ActiveCampaign Academy want help with is how to untangle the mess of Lists in their account.
We have a whole chunk of training on how to safely reduce List count without breaking stuff – think of us like your ActiveCampaign safety-blanket.
Got too many Lists? You're not alone, and help is at hand.
Just one month of support from Kay Peacey and the Slick Business team inside the membership can totally transform your ActiveCampaign account from spaghetti-lists nightmare to smooth-running marketing machine.
Come on in and we will help you untangle your lists, no matter how many you have!
Learn more about our ActiveCampaign Academy membership
Fast, effective training & support for ActiveCampaign users everywhere