For ActiveCampaign users with WordPress websites, WP Fusion is my number-one recommended plugin.
In my professional services as a certified ActiveCampaign consultant and trainer, I use WP Fusion daily to get WordPress websites communicating seamlessly with ActiveCampaign accounts.
In brief, the WP Fusion plugin passes information between ActiveCampaign Contacts and WordPress Users, in both directions, reliably, and fast.
Try ActiveCampaign now with a two week free trial
How WP Fusion helps ActiveCampaign users with WordPress
Learn how WP Fusion helps ActiveCampaign users
ActiveCampaign allows you to store lots of information about your Contacts and to Automate things in your business based on what your know about them.
WordPress allows you to store lots of information about your site users, and to give them access to things like products to buy, blogs to read, courses to enroll on.
On their own each of these tools, WordPress or ActiveCampaign, is an incredibly powerful marketing and sales tool.
And you can use them completely separately, independently, letting them each do their own thing.
But you know that analogy with the twigs? Where if you hold just one twig at a time you can easily snap each one in turn. But if you hold a bundle of twigs together they're a whole lot less breakable?
Connecting WordPress and ActiveCampaign, using WP Fusion, makes them stronger, together
In a nutshell, the WP Fusion plugin opens a line of communication between WordPress Users and ActiveCampaign Contacts. It joins the dots for you, between your ActiveCampaign account and your WordPress website.
Each WordPress User is connected to an ActiveCampaign Contact, and WP Fusion sends information in both directions.
This means that things that a user does on your website can make changes to the matching contact in your CRM, and changes you make to contacts in your CRM can affect what the matching WordPress user can see or do.
You are totally in control of what is being sent and received.
WP Fusion allows your WordPress website and ActiveCampaign account to work together as an integrated team. And they're a lot stronger together.
Check out this other blog post for some killer moves that Slick Business uses with WP Fusion and LifterLMS – my dream-team learning tech stack.
Create ActiveCampaign Contacts from site users with WP Fusion
So many times this question comes up in ActiveCampaign user groups…
How do I create an ActiveCampaign contact for my WordPress users?
The answer is: with WP Fusion
There is a super-simple setting in WP Fusion that will create a matching ActiveCampaign contact for every new user on your website.
This one feature, all on its own can solve a lot of problems for ActiveCampaign users with WordPress webistes.
But there's a whole lot more that WP Fusion can do…
Oh, and by the way, there's also a feature to create ActiveCampaign Contacts to match all your existing WordPress users, so don't get cuaght up on the "new users" part – WP Fusion has you covered.
Leverage ActiveCampaign Tags on your website with WP Fusion
WP Fusion allows you to add Tags to ActiveCampaign Contacts based on things they have done on your WordPress website.
This is a ninja-level super-power that's actually really easy to use via WP Fusion.
It works in both directions…
There is an uncountable range of options, and WP Fusion includes Tag related controls across a vast range of WordPress plugins.
The trick here is to work it backwards…. start with some pain point you want to fix, then look at how it can be done using WP Fusion and ActiveCampaign Tag controls.
Control access in WordPress with ActiveCampaign Tags, using WP Fusion
WP Fusion adds an enormous and flexible range of control in your WordPress site, based on which ActiveCampaign Tags the user does, or doesn't have on their matching ActiveCampaign contact.
Here's a not even remotely comprehensive list of what can be controlled…
Five things to control access to, using ActiveCampaign Tags
Show or hide a page element
Enrol on a course
Restrict a whole page
Allow a form submission
Grant affiliate permission
Add or remove ActiveCampaign Tags based on WP actions, with WP Fusion
WP Fusion gives settings that add or remove Tags from ActiveCampaign contacts, based on things they do as users on your WordPress site
Here's a tiny selection of what can be done with that feature:
Five things to Tag in ActiveCampaign from WordPress activity
Completed a course
Purchased a product
Viewed a page
Didn't login for 30 days
Payment failed
By the way… if you're not totally confident with Tags yet in ActiveCampaign, take yourself straight to our FREE Accelerated ActiveCampaign training – this short, free course covers the stuff you really need to know, fast, with no fluff and no filler.
Get our FREE Accelerated ActiveCampaign training now
Connect user fields with ActiveCampaign using WP Fusion
WP Fusion allows you to sync data between any WordPress user field and any ActiveCampaign custom contact field
This is huge!
You can map pretty much anything WordPress knows about a contact to an ActiveCampaign custom field, and then leverage that field value in ActiveCampaign to automate things.
Here are the first five things that come to mind that you can automate in ActiveCampaign once you have WordPress user data coming into ActiveCampaign custom fields, via WP Fusion.
Five things to automate in ActiveCampaign using WP Fusion field mapping from WordPress
Subscription renewal reminders
Name and address confirmation
Passing purchase information to accounting software
Tracking course progress
Monitoring logins
The field mapping is super-easy to set up once you know how, and it's something we teach in the ActiveCampaign Academy for our Advanced students.
It's incredible and wonderful to see the business pain points disappear with this simple, fast, relaible solution of mapping custom fields between WordPress and ActiveCampaign via WP Fusion.
What does WP Fusion Pro do that WP Fusion Lite doesn't?
The WP Fusion Lite plugin is a totally free version that provides the WordPress user = ActiveCampaign Contact sync, and limited tag-based access controls to pages and posts.
WP Fusion Lite is a great way to get a feel for what this incredible plugin is all about, and how it can help ActiveCampaign users get a lot mroe value from their accounts.
The full capability of WP Fusion needs the paid-for pro version, and potentially some of the add-ons.
For example, one WP Fusion addon provides a massive improvement to the deep data e-commerce connection available to Plus and above ActiveCampaign accounts running WooCommerce and some other cart services. This add-on alone is worth the entire annual price for most businesses, in time and trouble saved, and increased customer happiness.
There's a 30 day no quibble refund for WP Fusion. My advice as a highly experienced user and teacher for ActiveCampaign is, if in doubt, go for the lowest price paid plan, and put it through its paces.
The Pro plugin provides nuanced and super-detailed control over exactly how when and where user/contact synchronisation takes place, and unlocks features to user WP Fusion tag controls on pretty much any aspect of any plugin you may have on your site.
I won't try to list them all, but you'll find an up to date list on the WP Fusion website. My current favourites are WooCommerce Subscriptions, LifterLMS, Gravity Forms and SliceWP.
Jack Arturo, the dev at the helm of WP Fusion, is hands down without a doubt the most responsive and helpful plugin developer I have ever worked with.
Plus, whole team at WP Fusion are a delight to submit a support ticket to – and I can say that about literally no other plugin or tech service I have ever used. Mic Drop. Yes, I'm a fan – but you probably got that by this point!
Get more help to use WP Fusion with ActiveCampaign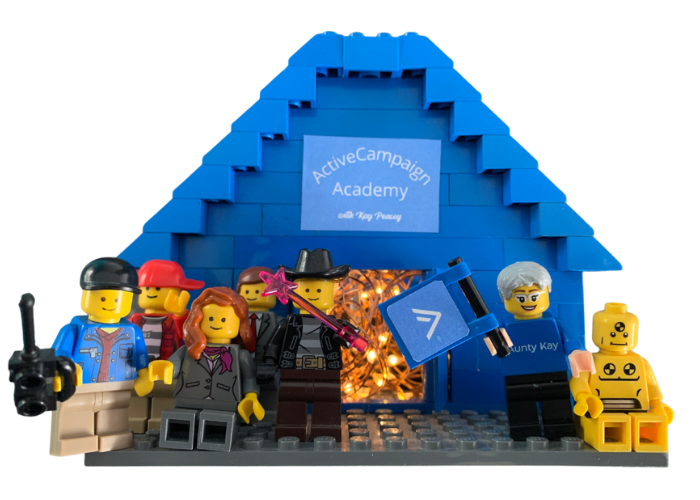 Like a lot of amazing tech, it's not always obvious where to start or what to choose in the settings to use WP Fusion with ActiveCampaign.
I have worked with dozens of implementations, and as one of just a handful of recognised WP Fusion Experts you can be confident that you're in the safest of hands when it comes to using WP Fusion with ActiveCampaign.
Inside the ActiveCampaign Academy membership, you'll find me at your service to guide you on your way to flawless ActiveCampaign sync with WordPress via WP Fusion. We have provide courses, resources, frequent live Q&A calls with me, and a vibrant, helpful community of ActiveCampaign users in businesses of all kinds, all over the world.
Come on in… you'll want the Advanced level for the WP Fusion goodies – we talk about it a bit in Essential level but the bulk of our WP Fusion related activity is with our Advanced members.
Learn more about our ActiveCampaign Academy membership
Fast, effective training & support for ActiveCampaign users everywhere